'Deadpool' Co-Star T.J. Miller Confirms Director's Cut
Legitimate new version of the movie, or shameless home video gimmick? You decide.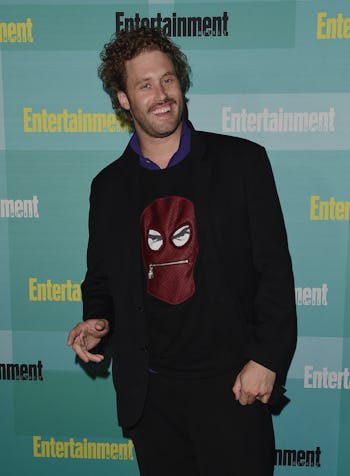 Getty Images
A lot of comic book fans were happy when director Tim Miller and star Ryan Reynolds said they would emphasize an R-rated cut of their upcoming superhero movie Deadpool. Thursday night, during a special fan screening of the movie in London, co-star T.J. Miller revealed that the X-Men pseudo-spin-off will get even more R-rated with a director's cut.
Unfortunately there are no specifics about what to expect, just that Miller said it would be "even more raw" and "pretty heavy-duty."
Though vague and off-the-cuff, that comment most likely means we'll see a DVD and Blu-ray release of the director's cut whenever the movie hits home video. Because, let's face it, Deadpool has no chance of making huge amounts of money anywhere other than from midwest teens buying it on iTunes or at Walmart.
The confirmation was captured by a fan that attended the screening:
This kind of thing happens with movies like Deadpool a lot. It was the lifeblood that drove National Lampoon's straight-to-video releases for years. The tongue-in-cheek home video cover of Deadpool will be plastered with a huge "unrated" logo or branded with a "director's cut" label. But the so-called "director's cut" only ends up being a few extra shots that hold on to blood and guts a little longer because it sells a few more DVDs.
Before you buy the director's cut, if the director's cut even happens, see the movie when it hits theaters on February 12.