The Peach App Announces New Features, Reminds You It's Not Dead
New magic words, animated shouts, favorite people, bios, wallpaper, and more.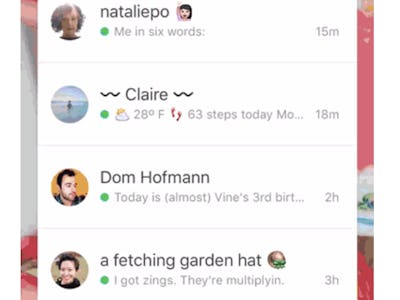 During those heady hours of a Friday afternoon not too long ago, many of us were all asking the same questions about Peach (what is it, what does it do, why is it?), the social app that launched at CES. Did any of us wonder how long it would stick around? Intoxicated by the mystery of a new app, and the distraction from work, nah.
By the following Monday, Peach had sort of faded. And this week, the app's creators have done the thing that apps do when they are not growing: Peach added a few new features. On Wednesday, it uploaded the third version of the app to the app store.
Arguably the best part of Peach were (past tense, because it's reportedly dead) the so-called "magic words." Here goes:
IMAGE: Search for an image.
THROWBACK: Post a random photo from your camera roll, along with the date and time it was taken.
MOOD: How are you feeling?
CAPTION: Add text to a random GIF.
NOISE: Add the noise level of your current environment.
Here are the rest of the features, per Peach:
Animated Shouts: Jazz up your shouts by animating them. Just swipe left to add extra frames. You can also tap on the photos icon to import a background from your camera roll.
Favorite People: Pick up to 20 of your favorite friends to ⭐️ and we'll make sure you see their updates before anyone else's.
Searchable Friends List: Now you can search for — and jump to — a specific friend on your list.
Wallpaper: Personalize your friends list with a photo background. Just tap the gear icon next to the [Add Friend] button.
Bios: Write a little something to let your fellow peaches know what you're about. You can also tap on a friend request to read their bio before adding them (or not).
Better Reading Experience: To make reading updates easier and more convenient, you can now drag up from the bottom of someone's profile to jump to the next person's. This has the feeling of looking through a timeline, without all the baggage.
The update also includes these three "secrets" any Peach user can see by holding down the home icon on the app. You can: "Replace Green Dots," which means you can remove them next to unread posts; "Mark Old Posts," which marks posts as read if they are older than 12 hours, and "Sort Posts," which moves already-seen posts to the bottom of your list.
Also, Peach is coming to Android. (If you're interested in testing Android beta, go here.)
There you have it, Peach lives.
Nick is on Peach. Follow him at @CNN.