Deciphering Peach, a New, 'Exciting' App
An examination of the hype, and how early Peach-adopters and -acolytes are using the vaguely exciting new iOS app.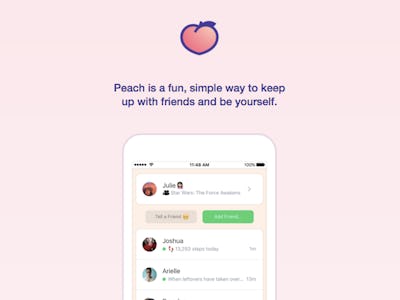 The latest version of a new iOS app, Peach, was released on January 7, and by January 8, there was a buzz — on Twitter, mostly — with speculation and praise. No one — not even those most vocal about the newness of the new app — seemed to know exactly why it was so exciting. ("But the URL," you could almost hear, "is Peach-dot-cool! It's cool!") The buzz, then, developed: With mystery comes intrigue.
The interface for Peach is clean enough; it's simplistic and fairly intuitive. As for its purpose, it's touted as a cross of Slack and Twitter, in that you can post semi-public musings and also employ commands ("magic words") to make your social media-ing less hernia-inducing. Type "D" and you'll see the option for "draw: Draw something," which, naturally, allows you to draw something akin to an MS Paint masterpiece. Typing "B" will give you the option for "battery: Current charge," which, vitally, shares your iOS device's current battery percentage with your friends, and typing the letter "M" gives you the option of "move: Movement today," which lets you brag about how many steps your iPhone has recorded you taking that day.
Here at Inverse we tried the app out. We immediately decided that it was more exciting to scoop valuable usernames than to actually use the app. Unfortunately, @rihanna and @justinbieber were already taken, precluding the realization of our dreams, and dreams of internet worshippers flocking to our faux-profiles with their offerings. Elsewhere on the app, people seemed dedicated to figuring out what exactly Peach was about.
Some joined Peach only to then wax philosophic about Peach.
Others used the opportunity to express unbridled anticipation.
Some used Peach as an outlet for a sort of meta-commentary — if you will — on the meaninglessness of both modern life and social media.
One user just started tweeting, but on Peach:
Finally, some attempted to track the app's functionality.
Dom Hoffman, the co-founder of Vine, started Peach. It's not the first venture since he left Vine: He apparently also started an app called "Byte" that currently has 12 reviews on the App Store and appears to enable its users to produce hodgepodge artworks that evoke elementary school collages.
If the app ends up living up to the hype, we at Inverse will be sitting pretty, awaiting Sean Combs' polite requests for access to his username.