Facebook Announces It Made $13.54 Off You Last Quarter
"We ended the year with over 18.4 billion in cash and investments."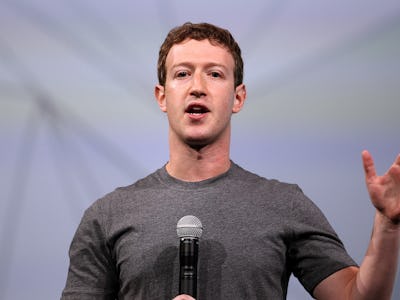 Flickr (Maurizio Pesce)
Facebook continues to grow at an outrageous clip. It made an unfathomable $6 billion last quarter. That's a casual $2 billion a month. And — coincidence? — an outrageous $66,666,666.66 a day.
And you? You, if you live in the United States, were personally responsible for generating exactly $13.54 of that revenue. On Wednesday, Facebook announced how the previous quarter treated them. And damn, did it treat them well.
If you're one who thinks Facebook is good for the world, take out your pom-poms and cheer away. If, on the other hand, you think Facebook is a blight on society, take out your tin-foil caps and whip up some armageddon signs. If you're ambivalent, then sit back and absorb the following — ahem — unbiased information.
Zuck also confirmed that Aquila will take its first test flight this year and waxed poetic about AI, Facebook's virtual reality plans, and rather sweetly, fatherhood.
These announcements come on the heels of Mark Zuckerberg's big late-August announcement: For the first time ever, "one billion people used Facebook in a single day." That means, in Zuck's dreamworld, that one in seven people "used Facebook to connect with their friends and family" — or, more accurately, to aimlessly scroll for hours, wasting away, and to watch and overshare videos and memes that at best render viewers incapable of abstract thought.
"This was the first time we reached this milestone, and it's just the beginning of connecting the whole world," Zuckerberg writes. (Emphasis added. Excuse me while I find my tin-foil cap.) But it's okay — Zuck doesn't think his baby is evil:
A more open and connected world is a better world. It brings stronger relationships with those you love, a stronger economy with more opportunities, and a stronger society that reflects all of our values.
Regardless, rest assured that they're going to continue pummeling you with advertisements. Facebook's top dogs think that it's exciting how personalized these ads will be. Prepare yourself, specifically, for more video advertisements. Sheryl Sandberg, Facebook's COO, says that there are "500 million watching video a day," which "gives [Facebook] room for an ads business to grow." She added: "Marketers also really love video."
And, in case you missed it, it's finally time to kiss your Likes goodbye: Facebook will gradually transition from Likes to "Reactions." Six reactions, to be precise, and each complemented with an emoji. These will be your options for interacting with future Facebook posts, as ordered from up-high:
Find the whole dataset here.