Amazon's New Series 'Mad Dogs' Is Unexpected, Weird, and Hilarious
UK showrunner Cris Cole's 10-episode series – featuring Steve Zahn, Billy Zane and Michael Imperioli – is the most distinctive show streaming TV has to offer this winter.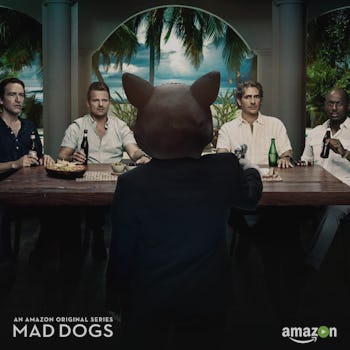 'Mad Dogs' Facebook
There is just too much TV to flip through, and all of it — you hear — is "pretty good"; maybe it just "really ropes you in," or it's "impossible to stop watching." The most surefire way for showrunners and their studios to assure that a show will meet these designations, of course, is to hit the beats that have been proven to hook people. It doesn't necessarily matter if you, the viewer, know what is coming: If you know a character is going to get it in the end; if you can see the all-powerful kingpin protagonist in the crime drama's downward spiral before it begins; or if you know the component parts of your protagonist from other characters you loved before — Don Draper, Walter White, Frank Underwood, Dexter Morgan, and so on.
Between cliffhangers and moments of shocking kills or betrayals, the serial drama of today can almost inevitably suck you in, and most of the time, you hate yourself for it. All hands are on deck — anywhere from FX to Crackle, in all elements of production — to get you hooked. By now, it's rare that the experience of rabid consumption of any particular program feels unlike a place you've been before in your life, with some similar show.
There are a few exceptions to the rule, and plenty of shows still feel exceptional even if they stick pretty closely to the playbook. Amazon Video's newest series, Cris Cole's Mad Dogs — an American revamp of his successful 2011-2013 British series on Sky1 — is most assuredly not an undertaking that adheres to any clear set of guidelines. In fact, it openly flouts them, but without the iconoclasm and sloppiness feeling forced or indulgent.
There is a clear sense of voice and purpose on Cole's show, which follows childhood pals Cobi (Steve Zahn), Lex (Michael Imperioli), Gus (Romany Malco), and Joel (Ben Chaplin) on a wild, disjointed journey through the forests, countrysides, and cities of Belize and Guatemala, after a visit with their friend and self-made millionaire Milo (Billy Zane) goes awry in just 24 hours.
Initially, the show looks like a bro ensemble production of sorts: a bunch of dudes in an exotic foreign location getting into trouble after a night or two of clubbing, philandering, and heavy drinking. This is not the direction the show goes; it's black comedy, but more Lynch than Very Bad Things. Circumstances out of their control frequently loom up almost comically, among them: a cat-masked, tuxedo-wearing mystery assassin, a yuppie touristy-looking duo of drug dealers, a menacing but sensuously sociable crooked police captain, an Amish family living in the middle of rural Belize, a crooked, sociopathic fitness and juice freak who is a rogue CIA agent, and so many more. Of course, at the heart of it of it all, the looming presence of someone or something called "Jésus," whom Milo has offended with his reckless business dealings and disregard for Belize City's status quo.
In between the action — either disturbingly violent, slapstick-y, or "What did I just see?" strange — we learn more about the motley crew of friends, mostly in amorphous conversations that happen in spare moments. For the better part of an episode, they talk deliriously — semi-improvisationally? — in a stalemated stakeout with an unknown assailant in Milo's villa, and have nothing to do but fight over who gets the last mini-Coke. Another drama revolves around a troublesome rental car outlet and a car trip with a treacherous hike featuring Fargo's Allison Tolman as an affable but neurotic American Embassy employee who gets caught up in the crew's dirty business. Tension ramps up and then quickly falls into quirky, dialogue-heavy sojourns, which seem culled from a Jim Jarmusch movie in the vein of Down by Law or Stranger Than Paradise. "Shaggy dog story" becomes the style of the show.
It's not your average rambling tale of a crazy trip though; it's truly something dreamed up in a hashish-induced fever dream. So much happens that it's almost impossible to distill the plot, and yet nothing seems to happen, like some postmodern novel in the Pynchon or Vonnegut lineage that goes everywhere and nowhere. Every minute, a new story seems to begin; this show has a very bad short-term memory. Mad Dogs is messy, illogical, sometimes trashy, sometimes misguided (there's certainly some exoticizing going on with the crowds of people that teem around our non-heroes in the cities and towns of Central America), sometimes even staggeringly beautiful. But always, it's unprecedented, and keeps a sense of humor about itself. After all, how seriously can one take any cadre of self-important, self-deluded, and self-interested middle-aged, middle-class dudes?
I'm not sure about how this prospective Woody and Miley joint will turn up — and I've never attempted the recently returning Bosch — but, recently, Amazon has made a strong play for boasting the most original original programming on the streaming sites. Netflix's massive productions remain more high-profile, but Mozart in the Jungle is becoming the sleeper hit the Golden Globes had to acknowledge; Transparent continues to be beloved; and Mad Dogs is, in its own more humble way, the new weirdest television show, following The Leftovers' finale, that is. And it's even more fun. It's untested, and maybe currently the millionth on your brain-rotting to-do list, but trust me — the real-time, uncanny zaniness of Mad Dogs is the respite from anodyne cliffhanger culture you didn't realize you needed.
The entire t10-episode first season of Mad Dogs is available to watch now on Amazon Video.