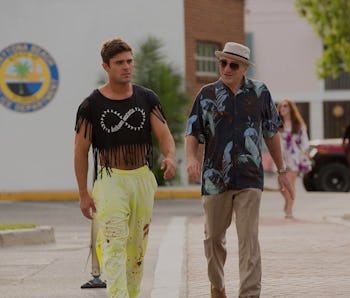 Entertainment
The Worst Movies Made From the Hollywood Black List
'Dirty Grandpa' was touted as one of the best un-produced screenplays ever on the Black List. Now that we know it's terrible, what other movies were unfairly celebrated?
www.facebook.com/DirtyGrandpa
Did you see Robert DeNiro get dirty as the titular Dirty Grandpa this past weekend? Probably not. DeNiro and Zac Efron's raunchy comedy — which features a scene that shows the film veteran showing his grandson (played by Efron) his child's penis during the baby's baptism and whispers, "Nice dick, huh?" — was only able to get dirty to the tune of $11.1 million and fourth place on its opening weekend. It had so much promise, mostly because the script spent years on the so-called Black List.
Founded in 2005 by former studio executive Franklin Leonard, the Black List showcases the best unmade scripts in Hollywood by polling a pool of executives about the best screenplays they read the previous year.
Such popular gems as The Social Network, American Sniper, Slumdog Millionaire, The King's Speech, John Wick, and more have all graced the ranks of the Black List with their unmade scripts before being produced. And while the list itself is meant to highlight the best of what's been overlooked, it's also produced some true stinkers in its decade of existence. Here are the best of the worst the Black List had to offer.
5. Pan
This revisionist take on author J. M. Barrie's Peter Pan story could have read on the page as an interesting version of a familiar story, but director Joe Wright's execution of screenwriter Jason Fuchs' 2013 Black List entry is a perplexing and confused update on a fairy tale that didn't need to be revised in the first place. Maybe the film's failure also had to do with the strange casting of Rooney Mara as Tiger Lily or the ridiculous decision to have the Lost Boys anachronistically sing "Smells Like Teen Spirit" and "Blitzkrieg Bop" to Hugh Jackman's Blackbeard character who leads them as child slaves. Also, Captain Hook is an Indiana Jones-type antihero for some reason. Either way we'll tend to agree with Lou Lumenick's New York Post review that called the movie a "joyless, 10-megaton bomb" that "fails in just about every imaginable way, as well as some you couldn't possibly imagine."
4. A Couple of Dicks
Don't remember this one? Well this 2008 Black List script by Mark and Rob Cullen was renamed Cop Out and ended up as the first movie made by former wunderkind director Kevin Smith from a screenplay that wasn't his own. The comedy about two grumpy veteran LAPD detectives, played by Bruce Willis and Tracy Morgan, was Smith's attempt to break through into the mainstream, but it ended up being an unfunny mess best known for Smith and Willis' spats on-set. Smith's alleged message at the movie's wrap party, which Willis didn't bother going to, was "I want to thank everyone who worked on the film, except for Bruce Willis, who is a fucking dick." If only the movie were any good. Smith remains caught in indie experimentation like Tusk and Yoga Hosers, while Willis still ranks as one of the biggest stars in the world.
3. Transcendence
"An epic love story set in a time where a dying scientist is able to upload his consciousness into the internet and, facing its global implications, must fight against the forces who are actively working against the existence of a singularity." Sounds awesome, right? Too bad the final product from the 2012 Black List ended up being a poor excuse for a Christopher Nolan movie. Johnny Depp as the dying scientist and — conveniently enough — Nolan's longtime cinematographer Wally Pfister, who made his directing debut, couldn't save this movie. Chalk it up to the fact that the filmmakers thought that endless techno-babble and many shiny surfaces could mask a fairly goofy story that tried to say something about the way technology will affect our lives but couldn't remember what exactly it all meant. Now, go watch Inception.
2. Abduction
Thank god director John Singleton can always be referred to as "Boyz n the Hood director John Singleton" and can forget ever having directed this woeful action-conspiracy-thriller starring the sentient abdominal muscle named Taylor Lautner. Like Pan, the airtight script that made the 2010 Black List may have impelled executives to fast-track this script into production to star a legitimate actor instead of a buff dude with zero charisma just trying to find out what to do after Twilight. A round of applause to Andrew Barker in Variety, who said the movie was "a haggardly slapdash Bourne Identity knockoff, never rising above the level of basic competence.
1. The Beaver
Who would have known audiences didn't want to give a second, third, or fourth chance to a dude who was caught up in a domestic violence controversy, a custody battle, and some infamous racist and anti-semitic rants? Screenwriter Kyle Killen's The Beaver, about a disgraced businessman who develops an alternate personality disorder by using a beaver hand puppet, topped the 2008 Black List as the best un-produced screenplay that year. But then it was taken out of its perfectly absurd satirical context and repositioned into a comeback movie for Mel Gibson directed by Jodie Foster. It flopped at the box office, making only $970,816 domestically on a $21 million budget. Critics surmised that audiences couldn't separate Gibson the Jerk from Gibson the Performer, and they may be onto something. Gibson has tried to make multiple comebacks since The Beaver — including appearances in forgettable movies like Get the Gringo, Machete Kills, and The Expendables 3 — but the beginning of the end all started with The Beaver: the prime example of what could have been.