'The Magicians' Is the Perfect Mix of Harry Potter and 'The O.C.'
Syfy's newest guilty pleasure continues a string of successes in the channel's recent rebranding.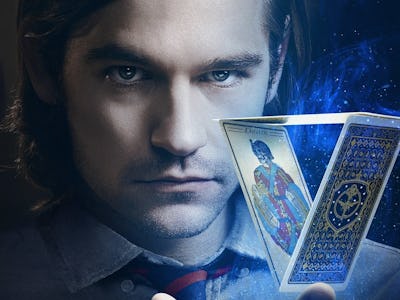 www.facebook.com/TheMagiciansSyfy
Five years after the Harry Potter film franchise cast its final spell, there's been a dearth in magic-related coming-of-age stories. This despite the proliferation of YA soap opera adaptations that would love nothing more than to evoke the same wonder as a J.K. Rowling plot. It's also been nearly 10 years since The O.C. taught us that life doesn't get any easier even if you're a troubled, but exceedingly hunky, lower-class teen transported to Southern California high society. There hasn't been a fish-out-of-water story set to Death Cab For Cutie songs quite like it since. Fans who miss Hogwarts and that "California" theme song by Phantom Planet won't need to get nostalgic to DVDs of seven Potter movies or four O.C. seasons much longer. Syfy's newest show, The Magicians, is here to help.
Premiering on January 25 in a two-episode block, the magical world hidden in plain sight set up by the Syfy drama (adapted from author Lev Grossman's popular book series) is like if Harry Potter forgot about all that stuff that happened at Hogwarts, grew up, got mopey, and decided to go to magic school again because it was the only thing that kept him sane in an otherwise bland, normal world.
The show stars actor Jason Ralph as Quentin Coldwater, the twentysomething lead character who is basically exactly what you'd imagine a guy named Quentin Coldwater would be like. He's the type of dude who would definitely write semi-emo indie rock songs if he knew how to play guitar instead of losing himself in a Narnia-like series of childhood fantasy novels known as the Fillory and Further books. A misunderstood loner, aloof, a dreamer, but still somehow living in a killer loft somewhere in Brooklyn near the bridge, Quentin one day finds himself transported — through his very own Platform 9 ¾ — to a hidden school of magic called Brakebills University.
There he and his feisty but platonic roommate Julia (Stella Maeve) are swept up into an entrance exam and learn about a secret world of magicians. Quentin passes with flying colors, but Julia is rejected and sent back to real life with her memory erased. While Quentin is introduced to the Hogwarts-esque separate areas of study at Brakebills (telekinetics, illusions, healing, nature, knowledge, psychics, etc.) Julia eventually manages to remember what happened and is seduced by a skeevy dude in a bar bathroom who we find out is part of a shadowy and possibly unofficial rival magician academy.
Check out Episode 1 below:
The Potter influence is unmistakable from the first episode, and one that the show is fundamentally unable to ignore. Whenever you have a bunch of kids in a magic school, everyone on the planet can't help but think of the Boy Who Lived. But The Magicians overcomes lazy comparisons by, well, unabashedly adding the pulpy influence of The O.C. onto Quentin's story. Coldwater is a bit of Harry Potter and Seth Cohen; a prissy Brakebills student named Alice Quinn (Olivia Taylor-Dudley) is equal parts Hermione and Summer Roberts; and Julia is a perfectly wicked concoction of Ron Weasley, Draco Malfoy, and Marissa Cooper.
While appropriate, those similarities are way too reductive. The show is perfectly suited for the post-YA crowd, with plenty of signifiers to other tween-to-teen sci-fi soaps like The Hunger Games or the Divergent series. But the show's horny Hogwarts angle, with the first episode's gravity defying sexcapades and sexual tension between Quentin and Alice, serves like the next logical step in the Potter and O.C. stories for a certain demographic. They've been waiting for this.
The early episodes do a great job of introducing the series' semi-redundant environment and characters while establishing a campy tone that fits squarely in the guilty-pleasure category. The way The Magicians will separate itself is in just how dark it may get. The particularly satisfying cliffhanger of the first episode, which will likely set up the main mysterious thrust of the season, features no less than a moth-demon man ripping someone's eyeballs out, placing them on a desk in front of a group of spellbound students, and drawing a macabre happy-face smile around them with blood. Needless to say, shit gets dark. Hopefully it stays that way.
While the characters of Harry Potter and The O.C. had to deal with similar instances of outrageous drama throughout their plots, The Magicians is able to cast enough of a spell early on to make fans and audiences want more.