Get Ready to Talk to Your Bank or Airline via Whatsapp
As the app approaches one billion active users, how will the company stay afloat?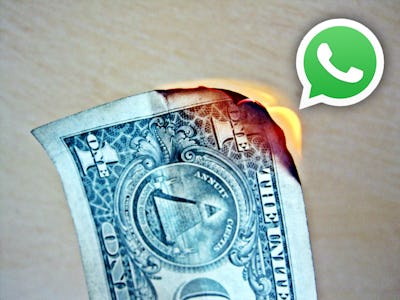 Flickr (Images Money)
WhatsApp is a messaging and VoIP calling app that's overwhelmingly popular in many parts of the world, but, in the United States, didn't exactly take off. It's renowned for its simplicity and its affordability, and was Facebook Messenger's top worldwide competitor — until Facebook bought it out for $19 billion in 2014.
In the United States, SMS has been around for a long time and also remains affordable. In other countries, that's not the case. WhatsApp lets you text, and do so across borders, for free.
Or, rather, they do now.
Up until today, WhatsApp would give its users one free year of the service, then charge $0.99 for each ensuing year. This is well within reason. The company has resisted advertisements from its inception, as a 2012 blog post illustrates. (Tyler Durden is quoted, too, so there's that.) On Monday, WhatsApp announced that the one-buck-a-year charge will no longer apply, either.
The app reached 900 million users in just two and a half years, and it's not unreasonable to assume that the app has now reached or is closing in on a healthy billion users. Again, WhatsApp's sole revenue source to date was determined by its number of active users. In other words, WhatsApp just ignited the $1 billion–plus pile of cash sitting in their corner. Which leaves us all wondering: WHY? and HOW?
One billion users breathed a sigh of relief when they learned that WhatsApp would not be selling out and turning to advertisements to account for the loss of revenue. Instead, the company announced that it would be rolling out a new model of monetization:
"Naturally, people might wonder how we plan to keep WhatsApp running without subscription fees and if today's announcement means we're introducing third-party ads. The answer is no."
Reassuring.
"Starting this year, we will test tools that allow you to use WhatsApp to communicate with businesses and organizations that you want to hear from. That could mean communicating with your bank about whether a recent transaction was fraudulent, or with an airline about a delayed flight. We all get these messages elsewhere today – through text messages and phone calls – so we want to test new tools to make this easier to do on WhatsApp, while still giving you an experience without third-party ads and spam."