Hey, WhatsApp, Do You Know What's Cool? A Billion Users.
The Facebook-owned messenger hits 900 million active consumers.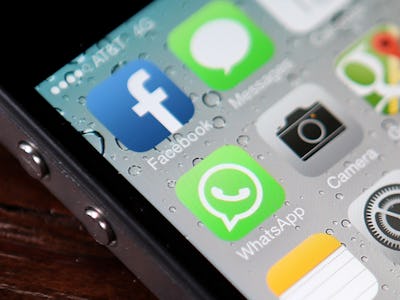 Getty Images
Today, WhatsApp founder Jan Koum announced — on Facebook, of course — that his baby is registering a whopper of a number: 900 million. Then, his buddy/overlord Zuckerberg posted a photo of Koum freakin' out about the sheer size of how much money he's about to make.
We can imagine the first dinner with Zuckerberg and Koum went a little bit like this, with Zuck assuming Sean Parker's mantle:
And, now they are getting there. As USA Today points out, they aren't exactly raking in the ca$h just yet — WhatsApp posted a loss of $232.5 million for the first half of '14 — but guess what? Zuck's at the helm, bitches. WhatsApp added 100 million users in the past six months, and they'll get to a cool billion by the end of the year (I'm guessing — come at me with your "numbers"). It's a really good product, especially handy for us Americans overseas. I use it almost exclusively when I travel. They'll make their money — despite their terrible, awful, no-good company moniker. Oh, yes. They will.