China Is Stealing Information from U.S. Companies Through Cyber Attacks
'60 Minutes' explored the Chinese government's involvement in economic espionage.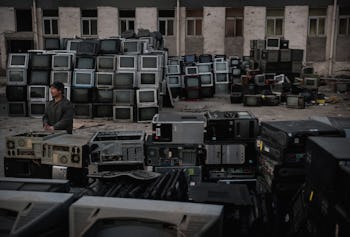 Credit: Kevin Frayer / Stringer
Chinese corporate espionage schemes are apparently a "national security emergency" in America, according to 60 Minutes' Lesley Stahl. The nation's spying affects every sector of the U.S. economy, costing companies billions of dollars and something like two million jobs. This is very bad news for private businesses who end up violated by and then competing with one of the world's biggest superpowers.
INVNT/IP, which investigates nation-sponsored IP theft, put out "Theft Nation," a report that explains the Politburo of the Communist Party of China's strategic plans that include this sort of criminal activity.
The Chinese government uses cyber attacks to gather everything from engineering and chip designs, to pharmaceutical particulars, and manufacturing processes.
CEOs are hesitant to talk about their experiences with this sort of spying because they have business in China. American Superconductor, which develops advanced computer software for wind turbines, first worked with Chinese company Sinovel, which eventually stole its coding. As CEO Daniel McGahn and Stahl walked through his empty factory floor, he told her that at one point he had to fire 600 people out of 900 he employed.
American Superconductor first started working in China after the country passed a clean energy law in 2005. Business was booming. He did everything in his power to protect the company, but one of his employees based in Austria was coerced by the Chinese government to spill the coding beans. He was offered a $1.7 million contract and women (yes, like James Bond women). Now Sinovel is exporting his turbines back to the U.S. — to the State of Massachusetts, in fact, which pays for them using federal funds.
He hired investigators CrowdStrike whose website describes it as "a leading provider of next-generation endpoint protection, threat intelligence, and services focused on preventing damage from targeted attacks." It uncovered that an email sent to the company's board carried something like a virus which allowed the Chinese military, Unit 61398 specifically, access to the whole American Superconductor system. Thanks to this investigation, five Chinese military officers were charged by Assistant Attorney General for National Security, John P. Carlin. But theirs is just one of many government and private groups involved in this sort of activity.
Back in September at the White House, Chinese President Xi Jinping pledged that the nation wouldn't engage in or support cyber-theft of intellectual property for commercial gain. However, the next day, after leaving Obama's side, Carlin says that hacking duties were handed from the military to the Chinese version of the CIA.
China denied the program in an interview, but sent 60 Minutes a comment which included this line: China "opposes and combats all forms of cyber attacks in accordance with law." The only way to fight it, Carlin believes, is through bigger threats to the Chinese economy, like sanctions.