Sean Penn Says His El Chapo 'Rolling Stone' Article 'Failed -- Let Me Be Clear: It Failed'
Fugitive's capture took focus on discussion about drug war, Penn says.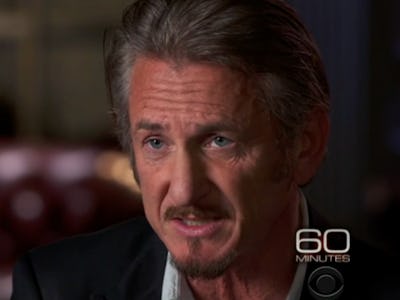 CBS
Sean Penn, who met Joaquín "El Chapo" Guzmán and then published a story about it in Rolling Stone — "El Chapo Speaks" — the day after the drug kingpin was arrested, has said he wants to clarify his involvement — or non-involvement — in the capture of the fugitive.
CBS News released today a preview of a 60 Minutes interview that will air in-full on Sunday wherein Penn says he has a "regret" about meeting with El Chapo in Mexico — that it took the focus off his plans for discussion about America's drug war and put it on the capture of the elusive lord of the Sinaloa Cartel. As stated in Penn's Rolling Stone piece, the cartel is the most powerful in the world, "exceeding even that of Pablo Escobar. [Guzman] shops and ships by some estimates more than half of all the cocaine, heroin, methamphetamine, and marijuana that comes into the United States."
"I have a terrible regret, I have a regret that the entire discussion about this article ignores its purpose, which was to try to contribute to this discussion about the war on drugs," Penn told Charlie Rose during an interview in Santa Monica, California. "Let's go to the big picture of what we all want: We all want this drug problem to stop, we all want the killings in Chicago to stop.
"We are the consumer, whether you agree with Sean Penn or not, there is a complicity there and if you are in the moral right or on the far left, just as many of your children are doing these drugs and how much time have they spent in the last week since this article came out, talking about that? One percent? I'd say that be generous. My article has failed, let me be clear, my article has failed."
Penn agreed with Rose's assumption that the Mexican government wanted to see the actor blamed in the eyes of the cartel for El Chapo's capture — but said he was not fearful for his life.
"We know that the Mexican government were clearly very humiliated by the notion that someone found him before they did," Penn said. "Well, nobody found him before they did, we're not smarter than the DEA or the Mexican intelligence. We had a contact upon which we were able to facilitate an invitation."
"There is this myth about the visit that we made, my colleagues and I, with El Chapo, that it was as the attorney general in Mexico was quoted 'essential to his capture.' We had met with him many weeks earlier on October 2, in a place nowhere near where it was captured."
See also: El Chapo Capture Video Is Real-Life 'Call of Duty'