Fugitive Mexican Drug Lord Joaquín "El Chapo" Guzmán Loera Captured. Again.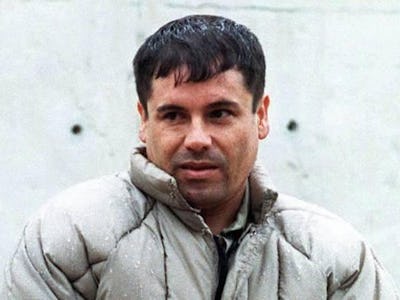 Wikipedia Commons
Notorious drug lord Joaquín "El Chapo" Guzmán Loera is once again in the custody of Mexican authorities, six months busting out of prison via an elaborate tunnel.
Mexican President Peña Nieto announced Loera's capture on Twitter.
Translated: "Mission accomplished: We have him. I want to inform the Mexicans that Joaquín Guzmán Loera has been detained."
No further details have been released.
Guzman broke out of Altiplano prison about 56 miles west of Mexico City last July. The boss of the Sinaloa cartel is no stranger to escapes, having bolted from another cell back in 2001. His latest disappearing act was abetted by a tunnel stretching all the way from his cell wall to a building a full mile from the prison.
Questions about whether Guzman has inside help in his most recent escape have been rumored since the public saw this footage of El Chapo fleeing on the prison camera system. You can hear a full six minutes of very loud hammering and drilling before Guzman bids adios to his cell through a hole in the wall of his private shower. Yet the guards claimed to be oblivious. Prison officials have since cleaned house, but judge for yourself:
For his latest incarceration, perhaps authorities can hold him at sea, or maybe in one of David Blaine's old plexiglass boxes suspended in mid-air.