Paul Giamatti Vehicle 'Billions' Is Peak Showtime for 'The Big Short' and 'The Sopranos' Fans 
The white-collar crime procedural, which also stars Damian Lewis and Maggie Siff, is farcical, well-cast.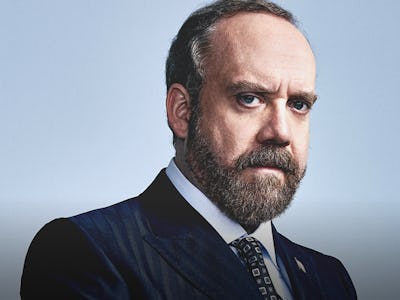 'Billions' Twitter
Some of you have noticed the ads: Paul Giamatti's face in profile and dramatic black-and-white, alongside that of seasoned small-screen pro Damian Lewis (Homeland, Wolf Hall, Band of Brothers). The image — completely devoid of context — immediately signifies antagonism between the two, an air of intrigue and treachery, and a lot of money at stake. Both shadowy, scowling figures are decked out in suits, and the show is called Billions. That image, next to the Showtime logo … is it possible to expect anything other than high melodrama and skullduggery?
If these were your initial assumptions, you'll be proved more than correct after watching the show's pilot, available now on Showtime's website and premiering on air this Sunday. Giamatti plays Chuck Rhoades, a U.S. Attorney focusing on white-collar crime whose office has a long-standing investigation going against Axe Capital, the too-profitable-to-be-legal fund owned by billionaire Bobby "Axe" Axelrod (Lewis). Axelrod is a notorious powerhouse and big spender — much of it on philanthropy. The show makes an effort to give this overtly despicable, smooth-talking character a more relatable, sentimental side, highlighting his donations to the college fund of the children of his former coworker, who all perished in 9/11 while he was out at a meeting. Also, he expresses a very real care and affection for those who are loyal to him, particularly Wendy (the great Maggie Siff), the company's longtime in-house psychiatrist and HR person.
The twist? Wendy is Wendy Rhoades, Chuck's wife. It's hard to credit that Giamatti would remain as in denial as he is about the effect that his investigation would have on Wendy and her professional life. He only half-heartedly and cryptically encourages her to leave Axe Capital, and insists repeatedly to those who question their arrangement that they can separate work and private life. Axelrod is aware of the cold war between he and Chuck, which has the potential to heat up at almost any moment. They are comically hostile to each other in person, with Chuck encouraging him Axe to not buy an 80+ million mansion — something that would make him extremely conspicuous. Axe's retort: "What's the point of having fuck you' money if you can't say 'Fuck you'?"
This is the kind of line that is strewn throughout every scene in Billions. The show might be best called "peak Showtime." The show intersperses lewd one-liner similes ("like popping a cheerleader's cherry on prom night," etc.) intense, picture-perfect sex and drugs (sometimes at the same time) and wall-to-wall, unwinking dramatic intensity. It's a perfect lovechild of its creators: collaborators Brian Koppelman and David Levien — seasoned screenwriters of epic bro-friendly romps like Rounders and Ocean's Thirteen — and Andrew Ross Sorkin, New York Times financial columnist and author. Is it silly? Yes, wholeheartedly. Is it fun? Yes — well-cast and addictive. Whether you view it as the worst type of TV crack, or the exact type of thing you look for depends on probably depends on whether you like stocks, and maybe Michael Mann movies.
Due to Sorkin's involvement (not related to Big Man on Campus Aaron, by the way) the show evidences a sharp knowledge of the world it is taking on, the personalities involved and the locker-room environment of institutions like the fictional Axe Capital. Things in the entertainment industry, for whatever reason, tend to come in two or fours these days, and it's convenient that Billions is surfacing as the discussion around The Big Short is still raging. If you are looking for more along those lines — with a post-Sopranos styling (see: psychiatrist, addictions to throwing money around for odd symbolic reasons, Axe buying a pizza place for no reason) — then Billions is the show for you.