'Star Wars: The Force Awakens' Opens in China Raking in $32.1 Million
'Star Wars: The Force Awakens' takes the number three top-grossing single day spot in China on opening weekend.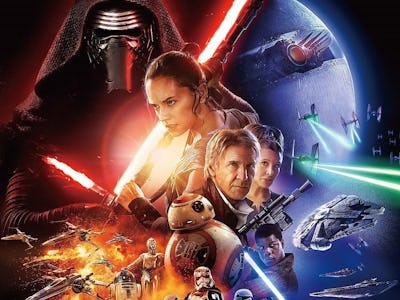 'Star Wars'
The most successful film of all time — according to domestic box office sales and prices adjusted for inflation — is still Gone With the Wind. But frankly, Scarlett, Star Wars: The Force Awakens doesn't give a damn. If you could adjust numbers for the age of the internet with its many streaming possibilities, it's possible this newest addition to the classic saga would break even Rhett Butler's bank. Today (which is like yesterday on the other side of the globe), the film opened in China, and according to China Box Office via Forbes, as of 9 p.m. EST, it raked in and estimated $32.1 million.
Forbes also notes that the film has taken the number three single-day grossing slots in that nation. "It is behind merely the $33m opening day of Marvel's Avengers: Age of Ultron, and the $68m opening day of Universal/Comcast Corp.'s Furious 7." Back in the U.S., the movie may be losing its footing as the lead flick this weekend in theaters thanks to The Revenant, but who cares kinda since this Star Wars already topped $800 million in domestic sales.
The franchise is on to clobbering China's major market. The film first showed there on December 27, in Shanghai. Director J.J. Abrams even attended the screening. The Chinese market is increasingly important for American moviemakers. "The long-term view is a steady decline in movie audiences in America since the 1960s and beyond," the BBC reports, "In comparison, China's audience went up by 36% between 2013 and 2014, with cinema admissions growing by 236% between 2009 and 2013."
Star Wars may present a distinctly American mythology, but, its makers are adapting and angling their approach to cater to this Eastern audience. All previous movies in the saga are streaming in China, in October, Stormtroopers raided the Great Wall of China and this music video featuring former boy band star Lu Han, "The Force Inside," certainly panders.
Back in December at the Shanghai preview, the AP spoke with The Force Awakens producer Kathleen Kennedy. She said that the filming of a stand alone Star Wars film, featuring two Chinese actors — Donnie Yen and Jiang Wen, had been completed. "They play wonderful characters and certainly there are many mythologies inside Chinese literature that I know we can explore in the future and find ways in which we can integrate some of those stories into the Star Wars universe," she said.
And it is certainly an expanded universe that continues to create new tales to draw in new audiences, one huge project at a time.