White House, Silicon Valley Officials to Meet in Summit on ISIS, Security
They will discuss winning the propaganda war.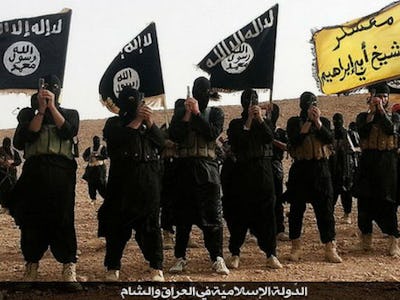 Ritsaiph; Wikipedia
The White House will take the war against ISIS to Silicon Valley today.
The terror group has recruited thousands of militants via the internet, and political leaders have long made cracking down on this network a central piece of the campaign to destroy the group's presence in Iraq and Syria as well as its ability to conduct attacks abroad.
Apple CEO Tim Cook as well as representatives of Twitter, Google, Microsoft, Dropbox, and Facebook are all expected to attend, according to Reuters. White House Chief of Staff Denis McDonough, presidential counterterrorism adviser Lisa Monaco, Attorney General Loretta Lynch, FBI Director James Comey, National Intelligence Director James Clapper and National Security Agency Director Mike Rogers were all invited to represent President Obama's Administration.
In a sign of the Administration's eagerness to work with Silicon Valley, the government representatives will fly to California for the meeting.
It's unclear whether the gathering signals a meeting of the minds between Silicon Valley and law enforcement or whether the Administration is hoping to coax greater concessions from tech leaders in the fight against radicalization. Disagreements particularly over the issue of government access to encrypted communication remain between the two parties, and even though encryption is not itself on the agenda, tech leaders could raise concerns during the meeting's final part, labelled "Questions or other issues raised by Technology Companies."
In an apparent strategic shift, the meeting will not just focus on disrupting terrorist activities on social media sites, but also address how to amplify the government's own anti-radicalization messages. From the meeting agenda obtained by The Guardian:
"How can we help others to create, publish, and amplify alternative content that would undercut ISIL?"
Efforts to combat ISIS propaganda in the past have largely fallen flat, most notably the State Department's "Think Again Turn Away" campaign.
While moving to a more proactive campaign to defeat recruitment seems like a step in the right direction, it raises similar questions about what role Silicon Valley can play in boosting the government's own messaging. Just like compelling tech companies to remove certain content could raise free speech concerns, so should ordering them to blast political messages out to all their users.
The meeting also comes at a time when the legislative landscape on issues of tech and security has experienced a major shift thanks to the passage of the Cybersecurity Information Sharing Act (CISA) as part of the Omnibus Bill back in December.
The legislation set up new portals for information sharing between Silicon Valley and law enforcement and provided incentives for companies to use them. CISA experienced heavy criticism from privacy advocates, including some of the same tech firms expected to attend the meeting, but now that it's a law, there's little they can do to deflect the new provisions.
The White House has not released any statement confirming the meeting, though they are expected to once it is complete.