Sony's Inzone Buds for PC and PS5 Reduce Audio Latency to Under 30 Milliseconds
They're not PlayStation-branded wireless earbuds, but they do have PS5-specific features.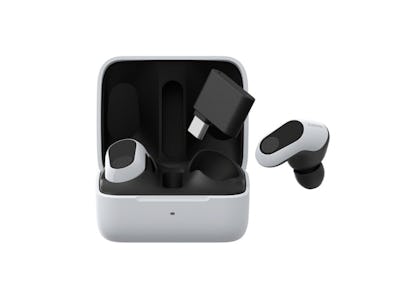 Sony
As if Sony doesn't have enough wireless earbuds between its LinkBuds, WF-1000XM5s, and PlayStation Pulse Explore (coming soon), today it's introducing another pair: the $199.99 low-latency Inzone Buds geared toward gamers.
Alongside the gaming-centric wireless earbuds, Sony is replacing its mid-tier $229 Inzone H7 wireless headset with the more affordable $149.99 Inzone H5. The top-of-the-line $299 Inzone H9 is also getting a new black colorway.
As part of the Inzone branding, the Inzone Buds and the Inzone H5 headset are designed for PC gaming, but because Sony owns PlayStation, there are a few bonus features for PS5 gamers.
Wireless Earbuds for Gaming
While there are tons of gaming headsets to choose from at virtually every price point, Sony says the Inzone Buds are more comfortable for longer gaming sessions since there are no headband or earcups. To drive home the comfort-forward design, the Inzone Buds angle away from the ear and Sony includes several ear tip sizes. Controls are handled with the touch sensors on each earbud.
Powering the Inzone Buds is the same "Dynamic Driver X" that's used in the WF-1000XM5 buds, which means you should expect similar sound quality, active noise cancellation, and ambient sound modes.
Gaming is, of course, where the Inzone Buds have the edge. Though they will connect with any Bluetooth LE Audio device, for PC and PS5, you can use the included USB-C adapter to cut audio latency down to under 30 milliseconds. This should also help in making spatial audio (which can be personalized to your ears) more precise, allowing you to, for example, better pinpoint an enemy's location in a game.
Additionally, Sony says the Inzone Buds use AI to reduce noise from keyboards and PC fans — sounds you definitely don't want your online buddies to hear when you're talking trash.
Using the USB-C dongle, the Inzone Buds get up to 12 hours of battery life that can be extended to 24 hours with its charging case. On Bluetooth LE Audio, the buds get up to 24 hours of playback and up to 48 hours with the charging case.
According to Sony, the wireless earbuds take two hours to fully charge, but you can get around an hour of battery life with five minutes of charging.
For PS5 users, the console will display on-screen status information for the connection, volume, and microphone. The Inzone buds also support the console's Tempest 3D Audiotech for more immersive sound.
A More Affordable Wireless (and Wired) Headset
If gaming wireless earbuds aren't your thing, maybe the new Inzone H5 headset is more up your alley. Compared to the Inzone H7 that they're replacing, the Inzone H5 is cheaper ($149 vs. $229), lighter (260 grams versus 325 grams), comes with the same AI noise reduction as the Inzone Buds, and has a 3.5mm jack.
The downside is the loss of Bluetooth (wireless connectivity is handled with a USB adapter) and battery life drops from 40 hours on the H7 to 28 hours on the H5. Ten minutes of charging does provide up to three hours of use, though.
As with the Inzone Buds, the Inzone H5 headset supports the same PS5 on-screen status information.
Sony says the lighter design also means better comfort compared to the Inzone H7 headset, which is always a plus.
Both the Inzone Buds and Inzone H7 are available to purchase from Sony starting today with shipping estimated for October 16-17.