This Wild Quest 3 App Transforms Your Furniture Into a Mixed Reality Spaceship
Watching Interstellar never felt so space-age.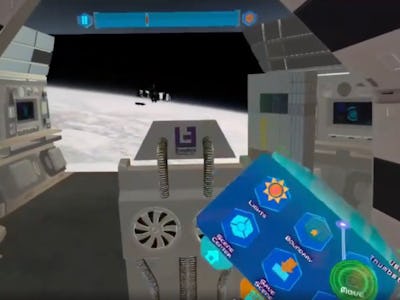 u/yeldellmedia via Reddit
Mixed reality may be relatively new, but people are catching up to the possibilities pretty quickly. With the release of the Quest 3 and its improved passthrough capabilities, we've seen clever XR applications like Super Mario 64 demo, mixed reality pianos, and plenty of big AR screens. Now, VR developer Figmin is leaning into the XR train with an app that maps out your room to create the ultimate home theater.
Specifically, Figmin XR's latest update adds mesh room mapping for anyone using the Quest 3, giving users an accurate way to translate their surroundings into mixed reality. By mapping out your room and the things in it, you can have virtual objects interact with your couch, TV, walls, and anything else you want to inject into mixed reality. Knowing how creative the Quest 3 community already is, we're in store for some wild, but also weird, results.
MAXIMUM IMMERSION
With Figmin XR's room mapping update, we're already seeing a ton of useful applications with the Quest 3. For instance, you can map out your furniture and transform it in the XR world, like this reskinned office chair, or you can smack around a ton of Mario models with a tennis racket.
The most compelling application we've seen so far is mapping out your entire living room to transform into an immersive spaceship movie theater to watch Interstellar. Redditor u/yeldellmedia transformed a sofa into a captain's chair, but you could convert your seat into anything you want to match the movie you're watching.
Figmin XR's update also gives us better resolution with the Quest 3, meaning a decent quality movie experience even while watching through the app. Although, we'd still recommend starting with a movie that's not nearly three hours long.
MAKE YOUR ROOM INTO ANYTHING
This isn't the first app to map your room for use in XR, obviously — we've seen it before with the Custom Home Mapper app that turns your home into a VR playspace and even Meta's Quest Pro headset has a room setup feature that's still experimental.
And yes, Figmin XR's room mapping may seem a little basic, but combined with the Quest 3's passthrough feature, it opens up a lot of possibilities for mixed reality. If the recent wave of experiments is any indication, we've got a lot more XR goodness to come.