Logitech's Folding Racing Sim Cockpit Actually Fits In Your Tiny Apartment
Functionality meets flexibility for a racing sim chair.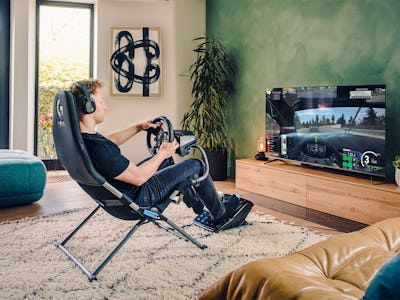 Logitech
Racing simulators are great, but they're not always the easiest setups to keep around if you're pressed for space. If you're in team tiny living space, Logitech is here to make sure you get the best of both worlds with its foldable racing chair called the Playseat Challenge X.
The Playseat Challenge X isn't as advanced as other racing sim cockpits, but the convenience of it is a huge selling point. Since it folds up when not in use, you no longer have to carve out a space for your racing sim setup. Logitech's collab with Playseat builds on the brand's own folding cockpit but adds some key upgrades. Considering that fully-fledged racing sim setups can go for thousands, the Playseat Challenge X feels like a good mix of functionality, flexibility, and affordability.
FULLY ADJUSTABLE
The Playseat Challenge X includes the typical mounts for the steering wheel and pedals but also offers a gearshift mount if you want to really immerse yourself in the racing experience. The seat is made of a breathable material that conforms to and supports your body so those long racing sim sessions will feel a little less swampy. With a carbon steel frame, the racing cockpit can support up to 359 lbs.
You can adjust the Playseat Challenge X's seat up to six positions, as well as the height of the steering wheel and the angle of the pedals. The steering wheel even lifts up to the side for easier entry into the seat. At 26 lbs, the Playseat Challenge X will be easy to store when you're not using it. Since the pedals and steering wheel can stay on while folded, you can just unfold the cockpit and jump into a race whenever you're ready.
AFFORDABLE ACTION
The Playseat Challenge X is already available on Amazon for $299.99. That's still a hefty price to pay on top of all the other racing sim gear you need to purchase, but it's much cheaper than Logitech's other collaboration with Playseat which goes for $599. If you don't care about the seat adjustability or the blue Logitech G accents, Playseat has its own Challenge folding cockpit for $229.