Jeep's Popular Hybrid Just Got Cheaper and Smarter
America's best-selling hybrid now has new features for a lower price.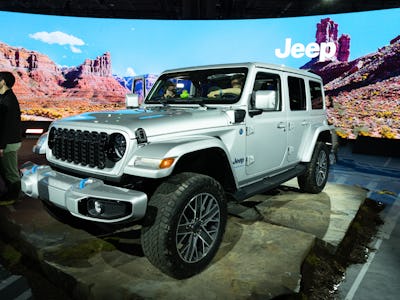 Photograph by Tim Stevens
Would you believe that the best-selling plug-in hybrid in the U.S. is a Jeep? A Wrangler, even. Jeep sold more than 43,000 of the PHEV flavor of Wrangler, the 4xe. That accounts for 25 percent of all Wrangler sales in 2022, a figure that jumped by half since the model was introduced in 2021.
How is Jeep celebrating? By giving the Wrangler a bit of a glow-up, adding a little more standard tech, and then making it available at a lower price, even. Welcome to the 2024 Jeep Wrangler 4xe.
VALUE
We'll start with the price because it's awfully rare that things become even more attainable in these days of rampant inflation and increasing component costs. While the Wrangler 4xe models aren't getting cheaper per se, Jeep is making the hybrid powertrain available on more entry-level trims. As of the 2023 model year, the lowest-priced Wrangler model you could get as a hybrid was the Willys edition, which started at $54,735.
For 2024, you'll be able to get a Sport S Wrangler with the 4xe powertrain. While Jeep hasn't announced formal pricing for the 2024 Wrangler yet, on the 2023 models the Sport S Wrangler costs about $4,000 less than a comparable Willys. If that pricing holds for next year, it may mean pricing closer to $50,000 for the cheapest Wrangler 4xe. But, we'll have to wait for official confirmation once Jeep starts showing us some dollar signs.
Jeep is also bringing some higher-shelf features down to the lower trims as well. Starting in 2024, the Sport S Wrangler will get adaptive cruise as standard, plus a new 12.3-inch Uconnect infotainment system situated high on that chunky dashboard, just left of the classic grab rail that your passengers are going to want should you tap into this thing's off-road capabilities.
GETTING DIRTY
Finding the right place to go off-road will be easier to do with Trails Offroad, which is integrated into that Uconnect display for the first time. Already available as an app on Android and iOS, Trails Offroad offers cached access to trail information including navigation to trailheads, details on terrain conditions, and even recommendations for exactly what kind of equipment you should be hauling to ensure you make the other end. Trails Offroad will still require a subscription to use, but having it integrated into the dash will mean no more fumbling with your smartphone while rock crawling.
Other off-road perks include an antenna that's integrated into the windshield frame (where it's less likely to snag on trailside obstructions), a frame that holds a windshield made of Gorilla Glass to resist damage from rocks and sand and whatever else is thrown up by the antics of your trail mates. For 2024, Jeep will also factory-install an optional 8,000-pound capacity Warn winch, perfect for when those off-road antics go a little sideways.
There's also a new Power Box, with four 120-volt outlets designed for serving power to charge up tools, power lights, or even keep your Crock Pot warm. This could definitely make roughing it off the grid a little brighter.
POWER OPTIONS
Regardless of which of the Wrangler 4xe trims you go with, you'll have the same 375 hp and 470 lb-ft of performance from the 2.0-liter inline-four paired with an eight-speed automatic. That remains unchanged, as does the battery pack, offering 21 miles of all-electric driving and a potential 49 mpge. But, as with all plug-ins, your mileage will certainly vary.
If you're not so into the hybrid thing, Jeep has plenty of other motor options, ranging from the non-hybrid flavor of the same motor, making 270 horsepower, up to the mighty 392 V8, a 6.4-liter offering a whopping 470 horsepower.
If you're wondering, yes, that's a real handful in something with suspension this tall and a wheelbase this short.
FAMILIAR STYLING
As far as other 2024 updates go, you'd be forgiven for not seeing much difference here from the Wrangler that's currently on sale. Jeep clearly has a well-defined visual formula and the company isn't messing with it now. But, look closely and you can spot a subtly refreshed grille, still featuring seven slots but now with some extra detailing around them. 10 new wheel designs are on offer, ranging from 17- to 20-inch in diameter, and Jeep is bringing back the Anvil color, a pale bluish gray discontinued about a decade ago.
The success of the Wrangler 4xe is notable as we rush toward an all-electric future, and indeed Jeep has some lofty goals there. The company plans to offer plug-in options on all its models by 2025, which is just around the corner in automotive terms. More significantly, as part of the Stellantis Dare Forward 2030 plan, Jeep plans to have 50 percent of its U.S. sales fully electric by the end of the decade. In Europe, they hope to be 100 percent electric by then.
To do that, they'll need some new models, the first expected to be the Jeep Recon. This all-electric crossover SUV will naturally have a focus on off-road ability and, with its small size, hopefully, will come at an attainable price point. After that will come the Wagoneer S, an all-electric version of the company's larger, more luxurious Wagoneer SUV. Both are expected to become available sometime in 2024, and we'll for sure bring you all the details on those as we have them.
But, until then, one in four Wranglers going plug-in is a great start and, by making the 4xe a little more attainable and a bit more feature-rich, that's only going to help.