You Can Now Buy A Cybertruck-Inspired Electric Scooter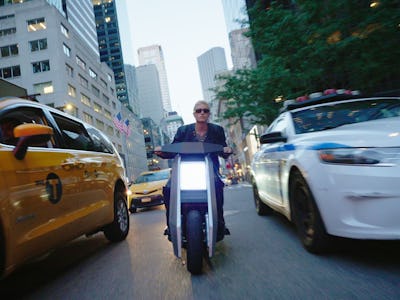 Infinite Machine
Love the look of the Cybertruck but don't have tens of thousands of dollars to spend on a brand-new EV? Not to worry: As long as you're willing to sacrifice two wheels, specs, and the clout (or lack thereof depending on who you're speaking to) for driving a Tesla, you can scratch a similar itch with this electric scooter from Brooklyn upstart, Infinite Machine.
For its part, Infinite Machine doesn't specifically say its P1 scooter is inspired by the Cybertruck, but c'mon... just take a look.
The stocky, angular design; the aluminum and steel body; the rectangular bar-like light. It's like someone said, "Say Cybertruck without saying Cybertruck." Here's a side-by-side for you in case you need a little extra visual confirmation of the similarities.
Infinite Machine's P1 Electric Scooter
You're not going to get as much power out of the P1 as you would a Cybertruck, but for a scooter, it's pretty mighty. The P1 has a top speed of 55 mph and a range of 60 miles in city environments according to Infinite Machine.
It's not all just looks, either. The P1 is also modular, allowing riders to mount modules on the rear of the moped including cargo attachments and loudspeakers. Speaking of cargo, there's a storage compartment that sits below the seat and a reservoir under the handles so riders can store bags and the like.
One of my personal favorite inclusions is Apple CarPlay and Android Auto so riders can get navigation, texts, and music on the scooter's small display mounted on the steering cluster. It's not Mercedes-Benz Hyperscreen, but it's pretty nifty for an electric moped.
Additional tech includes an integrated app that lets users lock, track, or immobilize their scooter in the event that it's stolen, which again, pretty high-tech stuff for a moped. You can't summon your P1 with self-driving like a Tesla, but hey, who's to say we can't get there someday.
P1 electric scooter pricing and release date
As you might imagine, with all that tech, the P1 won't come cheap. Infinite Machine says the scooter will launch with a starting production slate of 1,000 units and the price starts at $10,000.
Units will only come in anodized silver and black and Infinite Machine says it expects the P1 to start shipping in 12 to 18 months. If you're crazy about getting your own Cybertruck homage in scooter form, you'll have to put a $1,000 deposit down to reserve a P1, and Inifnite Machine says the rest is due "before delivery."
If you're feeling antsy to get your hands on a P1, you can also reserve one of the initial 100 units off Infinite Mahcine's production line for a $5,000 deposit. That seems like a big leap of faith to me, but hey, if Infinite Machine generates even half the hype of Telsa's Cybertruck, we might see some P1s on the road soon.