How To Use Apple Pay Later For Splitting Up Big Purchases
Apple's buy now, pay later feature uses Apple Pay to stagger payments with no interest.
by Henri Robbins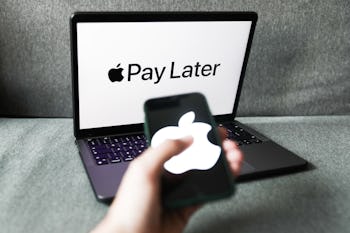 NurPhoto/NurPhoto/Getty Images
Apple's incoming update to Apple Pay introduces the tech giant's entry into the buy now, pay later space popularized by services like Shop Pay, Sezzle, and Affirm. Now, Apple users have a first-party option to take out short-term loans for their online purchases, allowing them to split a debit card purchase into four payments across six weeks with no interest or fees.
When will the feature be available?
Currently, Apple has released the feature to a limited number of randomly selected users, with plans to fully roll out the feature to eligible users in coming months. However, it also notes that the feature is currently only available in the U.S., and is not yet available to users in U.S. territories.
If you've been selected to test the feature, there will be a message in the inbox of the email address associated with your Apple ID.
To access the feature and take out loans, Apple also notes that you'll need to be updated to most current versions of iOS or iPadOS.
How do you start using Apple Pay Later?
Before taking out a loan with Pay Later, you'll need to be approved. The loan application can be found in the Wallet app, and Apple says applying for a loan will not impact your credit, although a soft credit pull will be done during the approval process.
To apply, you'll tell Apple how much you want to borrow and will have to agree to a new set of terms and conditions for Pay Later. Once that's done, Apple will check a few different metrics, including your current debts, public records (like recent bankruptcies and repossessions), and your credit score.
Apple also notes that, to apply for a loan, you'll need to meet a few other requirements:
18+ years old.
A U.S. citizen or lawful resident with a valid address and photo I.D.
Have two-factor authentication set up.
No freezes on your credit report.
Once you've applied, there are three outcomes:
You're approved, and can go through with your purchase.
You're approved for a lower loan amount than you applied for.
You're not approved.
How does payment work?
If you're approved, the initial down payment — 25 percent of the total payment — will be due immediately. The next payment — another 25 percent — will be due after two weeks, and so on until you've reached the total amount.
By default, autopay will be enabled for these payments. However, this can be disabled in the Wallet app at any time, and there are options to pay early or pay extra. Paying early doesn't have an impact on upcoming payment dates, but paying more than what is due will reduce the next payment.
According to Apple, the purchase will have no interest and no fees, even if you pay the loan off ahead of schedule. However, payments causing overdrafts of your debit card may still result in fees from your bank.
Currently, Apple has not mentioned any late fees either, although missing multiple payments will likely either reduce your loan amount or prevent you from taking out further loans.
How can you use Apple Pay Later?
Apple states that the app is designed with "users' financial health in mind" by providing more "flexible" payment options that allow them to make "informed and responsible borrowing decisions."
Currently, Pay Later can only be used for online purchases, meaning you'll still have to pay all at once for any purchases at physical stores. Along with this, loans are limited between $50 and $1,000 — meaning you probably won't be getting your car loan through Apple anytime soon.
Once you've been approved for a loan and made a purchase, you can view your upcoming due dates for each loan through a calendar built into the Wallet app which displays how much you owe on any given day, and how much you owe over the next 30 days.
Along with using Pay Later to spread a single purchase out across multiple weeks, it also has the added security of putting a corporation's money on the line instead of yours. Because of this, Apple already has a dispute system in place for refunds and chargebacks.
How do you get a refund?
If an online order doesn't deliver or is canceled, there are steps to get your money back — just like any credit card.
For the most part, this system revolves around contacting an Apple Pay Later Specialist, either through sending a message in the Apple Pay app, or by scheduling a phone call with Apple Support.
If you return a product for a refund, Apple has an in-depth list on how getting a return will work in most situations, ranging from partial returns to in-store purchases.
What happens if you don't meet a payment?
So far, Apple hasn't specified what will happen if you miss payments on your loan. However, it does note that consistently paying off loans on time can increase your approved loan amount, and that there is "no interest and no fees" associated with the loan, which likely means the only effect will be adjustments to your approved loan amount.