Elon Musk Is Making an Edgy AI Chatbot and We Already Hate It
The AI is called Grok and it will learn from the darkest depths of X. What could possibly go wrong?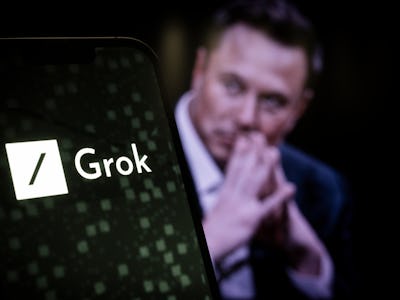 NurPhoto/Getty Images
You can get some pretty illicit responses from AI chatbots if you know how to trick them. What about an AI chatbot that scrapes from the unhinged corners of X (formerly known as Twitter)? Well, that's going to inherently lead to some wild responses.
Elon Musk's AI startup, xAI, just announced its Grok chatbot that was designed to have "a bit of wit and has a rebellious streak." To make Grok stand out from the competition, xAI is drawing from the comprehensive, yet toxic cesspool that is X so that the chatbot will "answer spicy questions that are rejected by most other AI systems." Do we really need an AI chatbot to compare API requests to a "never-ending orgy" or give us memelord takes on whether bagels should be scooped or not? (For the record, I agree that bagels shouldn't be scooped.)
Oddly enough, Grok is a product of Musk, who has historically opposed furthering the development of AI for the fear of destroying civilization as we know it. On top of signing a letter demanding the pause for researching artificial intelligence, Musk warned about the dangers of AI in a recent interview with Tucker Carlson. Thankfully, Musk seems to have ditched the ridiculous "TruthGPT" idea for a name. Although, we're not sure Grok is any better.
IF YOU CAN'T BEAT 'EM
In an ironic turn of events, Musk's latest project will go up against existing options like ChatGPT and Google Bard. xAI modeled the Grok after the iconic sci-fi franchise The Hitchhiker's Guide to the Galaxy, but it's hard to say if Grok will be able to translate Douglas Adams' cheeky humor into an AI chatbot. Add a few dashes of X's depraved database in there and we've got a real spicy stew going. You will get the option of a regular and fun mode for Grok; take a wild guess as to which one will be the edgy one.
Like other AI chatbots, Grok is trained off large language models (LLMs). More specifically, Grok runs off the Grok-1 LLM that xAI developed over the last four months. A few months of training doesn't seem like much time, but xAI says Grok currently outperforms most existing models like Meta's Llama 2 and OpenAi's GPT-3.5. Musk also posted on X that Grok uses more current information compared to other chatbots. However, Grok is beaten out by more recent LLMs that draw from much larger datasets, like GPT-4.
BLUE CHECKMARKS ONLY
You can join the waitlist for Grok on xAI's website, but you have to be verified on X to participate. Considering the tumultuous revamp of the blue checkmarks, it's a pretty lame pre-requisite but one we're not surprised about.
If you do get in, xAI points out that Grok is still very early in its beta testing since it only underwent two months of training. The startup is hoping that early-access users will help guide the AI chatbot with some feedback. Beyond that, xAI will be releasing a roadmap and rolling out new capabilities and features in the upcoming months.