Citroën's Tiny EV Looks Like a Game-Changer for Drivers With Disabilities
You won't have to rely on just public transportation anymore.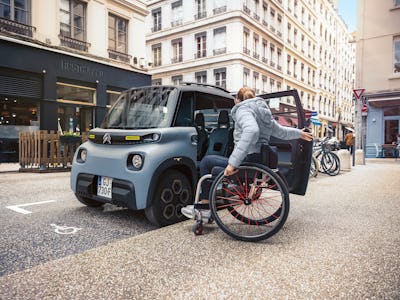 Citroën
Citroën's latest mini EV may be your new best friend. Citroën recently unveiled its Ami for All conceptual EV that was specifically designed for wheelchair users. The recently-revealed prototype was designed in collaboration with PIMAS, who's known for converting vehicles for people with mobility issues.
It may only be a mini EV, but the Ami for All features a custom design that's easier to drive for those with accessibility issues and that can fit a wheelchair inside or out. The EV is based on Citroën's Ami EV which came out in 2022 and features a compact design. Since then, the Ami has served as a solid canvas for Citroën to customize, with the Ami for All potentially being a real game changer for those with disabilities.
DISABILITY-FRIENDLY DESIGN
Citroën's Ami for All features a wider door opening angle and a retractable and removable transfer shelf that helps transition you from wheelchair to driver seat and vice-versa. Once inside, there's enough room to fit a collapsed wheelchair on the passenger's side. If you're riding with someone, you can have them help you attach your wheelchair to the back of the Ami for All on a dedicated aluminum luggage rack.
Citroën put its controls for accelerating and braking at hand level and added a knob on the steering wheel to make driving easier. The Ami for All tops out at around 27 mph and has a range of about 46 miles. The mini EV uses a 6kW electric motor and is powered by a 5.5 kWh lithium-ion battery. Citroën says it takes less than four hours to fully charge the Ami for All when using a conventional 220V socket.
The Ami for All isn't really designed for long weekend drives, but is more tailored to help those in wheelchairs commute around a city easier. While it's an EV, you don't actually need a license to drive this in Europe.
DELIVERING NEXT YEAR
Citroën put up the Ami for All on display at the Autonomic trade fair in Paris, but it's still working on getting a production-ready model out. Citroën says that it has a goal of opening orders for the Ami for All in the fourth quarter of 2023, with first deliveries estimated for the first quarter of 2024.
Considering the mini model of Citroën's Ami, it's the perfect EV to customize into a mobility solution for those with disabilities. The beauty of the Ami for All is that wheelchair users don't have to rely so much on assistance from others or on public transit to get around.