Casetify's Evangelion Collab Protects Your AirPods From Their Next Impact
Turn your AirPods case into Unit-01's head.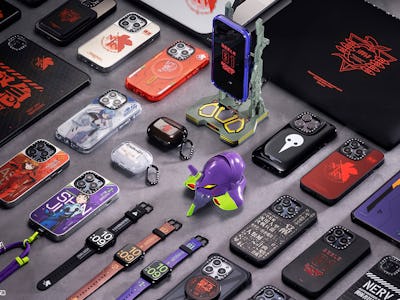 Casetify
Casetify's ever-growing list of collabs has finally reached the Neon Genesis Evangelion franchise. The tech accessories company partnered with Studio Khara to release an Evangelion-inspired lineup of accessories like iPhone cases, MagSafe chargers, and even a limited-edition water bottle.
The collab takes Casetify's Impact lineup that's designed to protect your smartphones and wireless earbuds from accidental drops and dresses it up in Evangelion's familiar purple and green color combo. Mostly though, they're meant to show off your love for one of the most iconic animes of all time.
READY FOR IMPACT
Casetify and Evangelion will release a whole batch of themed accessories, but the most notable ones are its wireless charging dock that's modeled after the ejection stand that the Evangelion units are deployed from and a case modeled after Unit-01's head that's compatible with AirPods Pro and AirPods Pro 2. Your devotion to Evangelion will surely be tested since both the charging dock and the AirPods case cost $122 each.
There are more affordable accessories, like a phone strap in Unit-01's purple-and-green scheme and a wireless charger that resembles the umbilical cables that power the Evangelion units. While cheaper, these two still cost a hefty price at $52 each. The collab will also include plenty of phone, laptop, and smartwatch cases themed after the series' Evangelion unit pilots, but also the Nerv and Seele organizations.
OFFICIALLY EXPENSIVE
Casetify is launching its Evangelion collab on July 20, but you can join the waitlist now. The company will also celebrate its launch with an in-person event in Japan. While this may be an official and well-designed collaboration, there's no shortage of cheaper options if you're looking to add a little Evangelion appreciation to your devices.