BMW's New Concept EV Flips Car Design on Its Head
The Vision Neue Klasse will usher in BMW's new class of EVs.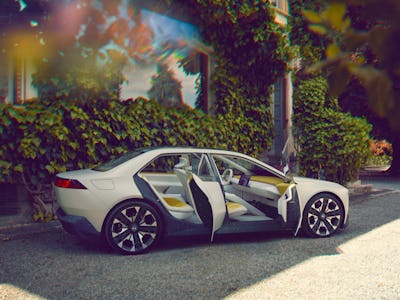 BMW
Lovers of BMW's old-school boxy design: shield your eyes.
At IAA Mobility 2023 in Munich over the weekend BMW debuted its Vision Neue Klasse conceptual EV — a departure from the automaker's recent design language and proving ground for high-tech displays and curvy design.
BETTER BATTERIES
In terms of improved efficiency, BMW says the Vision Neue Klasse will have 30 percent more range, 30 percent faster charging, and 25 percent more efficiency. BMW made major advances with its eDrive tech by using newly developed round battery cells that have 20 percent higher energy density than its predecessor. Even if you don't like the way the Vision Neue Klasse looks, it's still a decent bump in efficiency.
BMW is still incorporating classic design elements, like its prominent wheel arches and greenhouse look with its transparent roof and thin roof pillars. But BMW also goes with a modern take on its classic kidney grille and combined it with the headlights for a singular unit. This headlight unit even plays a 3D lighting animation when the driver approaches the car.
BMW goes wild with the displays, using E-ink on the lower portion of the side windows that can direct you to the EV's automatic door-opening sensors. On the inside, the Vision Neue Klasse will feature BMW's Panoramic Vision for the first time, which offers driver information across the entire width of the windscreen, like a heads-up display. There will still be a traditional display for the main infotainment screen but in a parallelogram shape.
EMBRACING CHANGE
Unlike the color-shifting i Vision Dee concept, we could see all these wild design ideas from the Vision Neue Klasse incorporated into a production-ready car as soon as 2025, according to BMW.
BMW's CEO Oliver Zipse said during a keynote speech that the automaker will release six EVs based on the Vision Neue Klasse design within the next 24 months. We're expecting a sedan version of the conceptual EV, but BMW also gave a sneak peek at an electric SUV based on the Vision Neue Klasse concept, as first spotted by Electrek.