The 8 Best Macro Pads or Gaming, Streaming, and Work
There's a macro pad for every occasion.
by Henri Robbins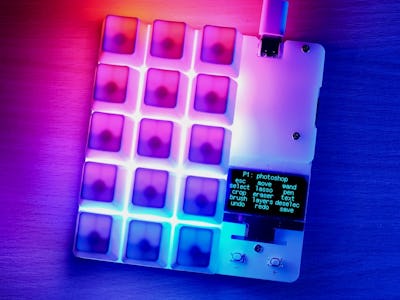 We may receive a portion of sales if you purchase a product through a link in this article.
No matter what size keyboard I'm using, I always find myself wanting just a few more keys. Dedicated volume controls, play/pause buttons, or even dedicated keys for obscure Unicode characters. Whatever it is, there's a solution: the venerable macro pad.
Macro pads come in all shapes, sizes, and layouts, meaning it can be difficult to find the right one for any specific need. To help you pull the trigger on one that's right for you, I've compiled a list of some of the best macro pads and multimedia controllers on the market.
The name is misleading, Elgato's Stream Decks are useful for far more than just running a live stream. I've known gamers, video editors, digital artists, and countless other professionals who use the Stream Deck to optimize their workflow and simplify complex key combinations ranging from editing tricks to microphone controls. The device's powerful macro tools are bolstered by the customizable LED screens under each button. Because of this, you won't be stuck struggling to remember what each button does (especially if you have multiple layouts) or constantly changing the paper underneath your relegendable keycaps.
However, the Stream Deck system does have a few limitations.: Customization can become a bit tedious with all the extra options, and the buttons don't have the same crisp tactility as a good mechanical switch — it's a necessary tradeoff if you want screens inside your buttons.
The Pikatea FK1 is simple. Order, solder, and bolt it to the underside of your desk. It doesn't take up any extra desk space, and it brings your setup a bit closer to a spaceship cockpit. Once this macro pad is attached to your desk, you can use it to control whatever you want. And since there's no wrap-around case to cover the back of the switches, you could even use some wires (and some heavy DIY skills) to loop one of the switches into another device or controller.
The only issue with a macro pad like this is that you can't easily move it once it's installed, but there are easy ways to get around that — I'd likely attach some small magnets to the underside of my desk so the entire assembly can easily be removed if necessary.
If you're looking for extra keys, it's hard to do better than a traditional numpad without buying a whole second keyboard just to reprogram (we'll get to that later). And if you're looking for one to reprogram, Keychron's QMK-powered option is a solid one. It's durable, easy to use, and has a rugged metal construction that can sound great with the right switches and a bit of work.
I love the classic numpad layout. It's familiar for those who've used it before and fairly intuitive for anyone who's new to it. Plus, the extra column of keys to the left (plus the dial on top) expands this keyboard's utility even further.
If the Q0 isn't quite stylish enough, Glorious's wireless numpad brings some extra RGB to the table and switches up the layout with both a knob and a slider. While it doesn't have quite as many keys as some other separate numpads, there are still more than enough for most use cases, and the design of this macro pad is super clean if you're looking for something customizable.
I don't know about you, but I just think little OLED screens on my devices are cool. They don't really do anything, but it absolutely never hurts to have one, and they're fun to customize and experiment with. Plus, a good amount of keys and a knob — there's nothing wrong with this as long as you don't mind the limited in-stock colors (currently just Lilac and Peach).
Owlab's Voice mini has a lot of great things going for it: It's simple, elegant, available in a bunch of colors, and comes from one of the best premium keyboard manufacturers today. And along with all of that, you'll finally get a use for all the ISO enter keys you have sitting around! I'd say that's a pretty big plus.
Besides that, Owlab had consistently made some fantastic keyboards — the Spring and Mr. Suit are two of the most popular custom keyboards around today, and this macro pad carries over quite a few of the design and construction choices that made both of them so well-loved. If you're looking for something unique and well-designed with a great name behind it, this is probably the best option you'll get.
If you want a macro pad with a lot of crazy features, this is probably it. I know a few people who have DuckyPads, and they all absolutely love them. The sheer level of customization that this macro pad offers is wild — an OLED screen with a per-key readout, different profiles for different apps, and removable storage. Even if it's not the most elegant solution, it's definitely one of the most compelling if you're looking for extreme customization and unmatched utility.
Three keys. That's all. And they combine to make a pretty funny gag item that still has some solid utility. While this isn't the flashiest, most complex, or most useful macro pad, it's still a really solid entry if you just want to create a few simple shortcuts for your day-to-day use.
This tiny keyboard has everything else you'd need, too: RGB lights, hot-swap switches, and USB-C connection. It may seem a bit ridiculous because of its tiny size, but there's a lot of potential there if you need something uncomplicated and to-the-point.