The 6 Best Bluetooth Meat Thermometers
It's time to stop guessing and start cooking.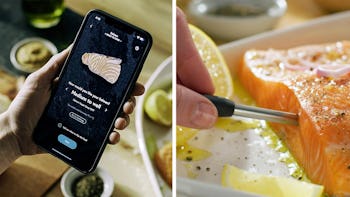 Amazon
We may receive a portion of sales if you purchase a product through a link in this article.
Whether you're an amateur cook who could use some help or a grill master who feels like you can test doneness with your eyes closed, a meat thermometer is the best way to ensure that your food is cooked the way you want it. The best Bluetooth meat thermometers will send accurate stats directly to your smartphone and have a wireless range that works for your cooking space — meaning you won't have to hover over the heat while you cook.
What to Look for When Shopping for Bluetooth Meat Thermometers
Wired vs. Wireless Design
When I say these Bluetooth thermometers have a wireless range, I mean that they transmit temperatures and other cooking data straight to your phone or tablet. However, that doesn't always mean they're entirely wire-free meat thermometers; some of the models below have wired probes that connect to a separate base. If you're shopping for this kind of Bluetooth meat thermometer, be sure the cord is the right length for your cooking space (you'll need a spot right next to the oven to place the base). Meanwhile, some of the meat thermometers on this list are truly wireless, for a streamlined experience.
Wireless Range
The wireless ranges of the picks below vary between 150 and 500 feet. If you don't mind staying in the vicinity while you cook, a smaller range should be just fine. But if you want the freedom to walk away from your food to hang out on the other side of your home, stick to options with a higher range.
Power Source
Another feature to consider is the power source. Some of the picks below are powered by rechargeable batteries, while others use single-use batteries — then, there are some truly wireless options that use a mix of both. Whichever design you opt for, you'll just want to make sure it's fully powered up before the next time you plan to use it.
Additional Features
The best smart meat thermometers do require downloading an app, and features vary between devices. You can opt for a relatively simple thermometer that just provides the internal temperature of your meat, or one that includes extras like temperature charts for various proteins, alerts when your food reaches the right doneness, and a timer for resting your meat.
The number of probes may also be an important factor, especially if you're cooking multiple proteins at once or have family members who prefer their steak at different temperatures. Some choices on this list have probes that simultaneously read the internal temperature of meat and the ambient temperature of your grill, oven, or smoker, while others have a separate thermometer to read how hot your cooking vessel is.
Each meat thermometer on this list can read the internal temperature of meat, though the max temperature varies from 210 to 482, continually. (For reference, chicken is considered fully cooked at 165 degrees.) They will also read the ambient temperature of your cooking vessel and max out between 527 and 572 degrees.
If you're ready to upgrade your old-fashioned dial thermometer with something more convenient, read on for the best Bluetooth meat thermometers on Amazon right now.
Shop the Best Bluetooth Meat Thermometers
In a hurry? Here are the best Bluetooth meat thermometers:
About The Recommender
Debbie Lee has written about food and travel for various print publications. Her bylines have appeared in GQ, Men's Journal, The New York Times, Mic, and Bustle. She has a master's degree in Magazine Writing from New York University's Arthur L. Carter Journalism Institute.