The Best Chrome Alternative Is Coming to Windows by the End of the Year
Arc has blown us away on Mac for the past year and soon it'll finally be on Windows.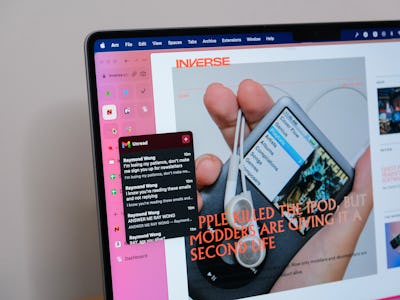 Photograph by Raymond Wong
Arc, the Mac-only web browser that Inverse crowned "the best web browser to come out in the last decade," will be available for Windows by the end of the year.
Josh Miller, co-founder and CEO of The Browser Company, the startup behind Arc, wrote in a post on X this morning that the first invites for Windows users will go out "before the end of the year" and then "really ramp early next!"
Arc on Windows
Miller shared the below screenshot, from what he says is a "real live app," showing off Arc's unmistakable sidebar made up of the Favorites section, pinned tabs, and all other tabs. At the bottom, you can also see one of Arc's signature features — Spaces — which lets you easily and quickly move between browsing windows.
Miller says the user interface for the Windows version of Arc is still a work in progress. Other than bringing the Chromium-based web browser to more users, one of the most interesting things about Arc on Windows is that it's built on Swift, a programming language made by Apple. Last November, the company released a video on YouTube explaining why it's using Swift as opposed to C or C++. The TL;DR is: that rewriting Arc's Swift code in C++ would take longer not just for launch, but over time.
"How do we build this framework for building a browser so that in one year, in two years, in five years, we're still building features at the same velocity and with the same integrity and the same experience that we do on Mac, but across platforms," explains The Browser Company co-founder Hursh Agrawal. "If we really nail this, we'll have a browser written in a performant language that is really quick to iterate in, and that looks and feels like a native Windows app, which no other browser on Windows does."
Infused with AI
It's unclear what form Arc on Windows will take. Other than looking and feeling like a native Windows app with signature features such as Split View, Easel, and Notes. How much of the Mac app will be ready at launch? Some of it? All of it?
Since coming out of beta earlier this year, The Browser Company has been updating Arc with new features at a steady pace. "Boosts," a way to customize any website exactly to your liking was released in May. The feature is neat, but I found it better suited for power users with time to tinker as opposed to the average person.
Earlier this month, the startup introduced "Max," an opt-in set of AI features, that supercharges Arc. I immediately turned Max on and several weeks later, I gotta say, they've been really useful. I love "Tidy Downloads" which renames downloaded files into plain English instead of something like "71c0rC3I6M1L._AC_SL1500_.jpg" and "Tidy Tab Titles" which does the same but for your tabs. The "5 Second Previews" can be helpful when you're short on time; pressing the shift key over a hovered link creates a few bullet points of the article without having to open it.
I'd really like to see the Arc companion app launch on Android, too. Currently, the mobile app is iPhone-only and requires Apple's iCloud to sync tabs.
Mostly, I just want to use Arc on a Surface device like Microsoft's Surface Laptop Studio 2 or Surface Laptop Go 3.