Amazon's Echo Buds Just Got a Massive Redesign and Price Cut
The new $49.99 Echo Buds look a lot like AirPods.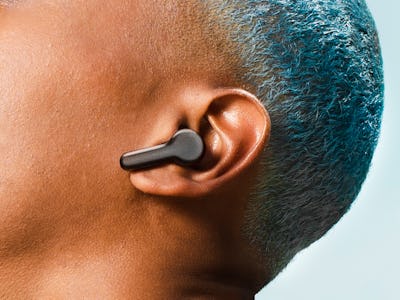 Amazon
Remember Amazon's wireless earbuds? The Echo Buds were aggressively priced and impressively performant active noise-canceling earbuds, but they pretty easily got lost in the never-ending list of Echo-branded, Alexa-powered devices. Amazon's new Echo Buds might not change that, but they are even more affordable.
The new Echo Buds only cost $49.99, and they're ditching the circular puck design of their predecessor for something more traditionally AirPods-shaped, one of several changes that might not sit well with everyone.
AirPods-esque
The new Echo Buds look like AirPods, which is to say they look like wired earbuds with the wires cut off; there's no way around it. Amazon describes their shape as a "semi-in-ear" design and will sell them exclusively in black, unlike the second-generation Echo Buds.
Inside there's a "12mm dynamic driver" for balanced bass, two microphones, and a "voice detection accelerometer to distinguish between a person speaking on a call versus others around," according to Amazon. You can control the buds with tap controls as before, and they have multipoint pairing, so you can connect them to up to two devices and switch between them seamlessly.
Amazon's estimates suggest the Buds will get five hours of Alexa access and music playback on a full charge that can be extended up to 20 hours with a fully-charged case. Notably missing from the new Echo Buds is any hint of active noise cancellation. The ANC on the previous Echo Buds made them a compelling alternative to the AirPods Pro, but Amazon is seemingly leaving them off to cut costs. Inverse has contacted Amazon to see if it will continue to sell its older ANC buds alongside the new ones, and the company says it is, except under a new name: Echo Buds with Active Noise Cancellation.
Price and release date
What price do missing features and a new design get you? A wild $49.99, which is less than half the price of the previous Echo Buds, and Amazon says you can order them now, and they'll ship on June 7.