The 6 best mice for MacBook Pros
Because sometimes a trackpad doesn't cut it.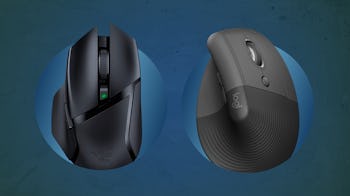 Inverse/Amazon
We may receive a portion of sales if you purchase a product through a link in this article.
With all due respect to Apple trackpads, there are times when a mouse can offer more comfort and precision while working from your laptop. With customization features that will help improve your workflow, the best mice for MacBook Pros feel good in your hand and sync seamlessly with your device using Bluetooth technology.
What to Consider When Shopping for the Best Mice for MacBook Pros
Connectivity
All the mice below feature Bluetooth technology, which can offer seamless connection for MacBook Pros. Some options also have the option to connect via a USB receiver (aka a "dongle") that plugs into a USB-A port; this method is typically associated with a faster connection between devices, which is more important for precise tasks like gaming. But recent MacBook Pro models only have USB-C ports, which means you may need a dedicated adapter to connect via a dongle.
Power Source
Another consideration is a mouse's power source. Some mice run on rechargeable batteries, while other models depend on disposable batteries. If you opt for a rechargeable mouse, it's worth noting that some options can't be used while they're charging (so think about whether that's a dealbreaker for you). Otherwise, you might want to opt for a disposable battery, so you'll only need to think about power once every year or two.
Hand Feel
If you're buying a mouse to alleviate hand fatigue, be sure the shape is right for you. Most of the mice on this list are easy to maneuver, but you will have the choice of minimalist, flat designs and curved designs that fit neatly in your palm. And for those who prefer to hold something more substantial, there is an ergonomic mouse that positions your hand in a neutral, vertical posture. Also note that some mice are designed for your right or left hand, while ambidextrous options can be used by either hand.
Other Features
You should also think about what you plan to use the mouse for. A basic budget mouse will serve you well if you're mostly web browsing and word processing, and operation will be relatively foolproof. However, if you use a mouse for gaming or editing software, you may want a model with customizable options that let you program multiple buttons. (You may also want to add one of the best gaming mouse pads to your setup to ensure optimal performance.)
Finally, don't forget aesthetics. There are mice with minimalist designs and others with neat lighting effects. If color coordination is important, you can easily find a mouse to match your MacBook.
If you're ready to add a new mouse to your computer setup, keep reading to find the best mice for MacBook Pros.
Shop the Best Mice for MacBook Pros
In a hurry? These are the best mice for MacBook Pros:
About the Recommender
Debbie Lee has been a shopping writer for Bustle, Mic, and Inverse since 2021. Prior to this, she wrote about cooking and kitchen gear for various publications including The New York Times and Men's Journal. An Apple devotee and owner of four MacBooks, she can attest to the usefulness of a mouse when it comes to her workflow.