Summer 2023 Will Likely Break Heat Records — Here's What To Expect
We have early meteorological indicators that summer 2023 will be a hot one.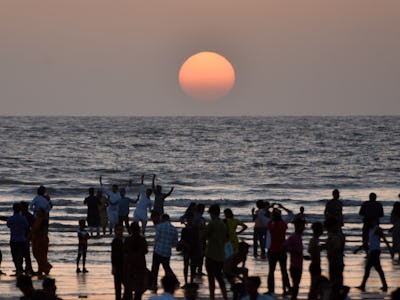 NurPhoto/NurPhoto/Getty Images
Breaking news: Water is wet. Ice cream is delicious. Summer is hot.
Of course, summer temps are high, and the sun shines bright. That's kind of summer's whole deal. Those hot days can start in May or June, depending on what part of the Northern Hemisphere you're in. And one thing that seems almost guaranteed lately is temperatures that break records.
Year after year, we've seen one record-breaking temperature high after another and record-breaking lows of ice on the Great Lakes relative to a certain time of year. And this year is no exception: The National Oceanic and Atmospheric Administration (NOAA) predicts summer 2023 will be hotter than average.
We are already seeing this, even though summer has yet to officially start. In early June, Bangladesh experienced a power outage from a heat wave. Buckingham Palace's famous guards have been wilting under this heat. Scotland has already recorded its hottest day of the year so far at 86 degrees Fahrenheit. (Last year, the U.K. experienced three atypical heat waves.)
In the U.S., NOAA forecasts a "moderate risk of excessive heat" in parts of the Southern Plains and Lower Mississippi Valley. According to The Weather Channel, the Midwest, in particular, looks primed to experience its hottest summer since 2017. Triple-digit temperatures could arrive in Texas this month.
The National Weather Service's Climate Prediction Center reports that sea surface temperatures have been above average in the last year, which can increase the probability of extreme weather: "A warm Atlantic and a warm Pacific would produce competing forces for tropical storm and hurricane activity."
So it's not just that summer will be hot because it's supposed to be; many metrics, including temperatures, lean toward "higher than average." With high temperatures, heat stroke becomes a more threat, especially to older folks. Excessive air conditioning use strains city grids, and powerful heat can lead to outages with few options for keeping cool. These higher-than-average temperatures could also mean more droughts in different parts of the country, as well as "major disruptions" of marine ecosystems, as Glen Gawarkiewicz, an associate scientist in physical oceanography at the Woods Hole Oceanographic Institution, told NBC News.