This duck's semen holds a surprising clue to animal evolution
Sperm may be mallard ducks' superpower.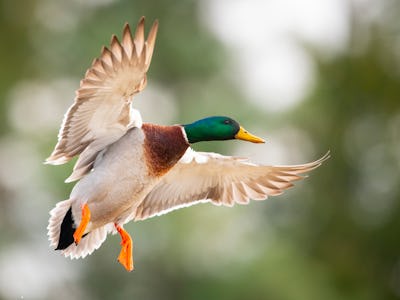 jared lloyd
Ducks, to put it mildly, can be very annoying. For one thing, they're prone to bouts of aggression, attacking people at random.
Their incessant quacking can get pretty irritating, too. But, beneath that frustrating quacking, it turns out that ducks have a mysterious superpower that may help us unlock the secrets of animal evolution: Their sperm.
A study published in January found certain properties in mallard ducks' sperm can play an important role in sexual health and fertility. Intriguingly, it may even kill bacteria.
INVERSE IS COUNTING DOWN THE 20 STORIES THAT MADE US SAY 'WTF' IN 2020. THIS IS NUMBER 12. SEE THE FULL LIST HERE.
The research uncovers a curious link between the duck's colorful yellow bill and sperm. The more colorful the bill, the more likely the duck's sperm is to eliminate bacteria.
Ducks use their colorful beaks to attract mates, and the study suggests there is an evolutionary link between bacteria, reproduction, and mate selection.
"No one had come at this from a more evolutionary and ecological perspective, thinking about what those potential impacts on sperm function and performance might be for an organism's fitness," Melissah Rowe, an author on the study and an evolutionary ecologist at the Netherlands Institute of Ecology, told Inverse at the time.
Beyond ducks, there's a whole wide world of diverse sperm out there. Rodent sperm has hooks on the top of its head. Fruity fly sperm can get up to six centimeters long — even though their bodies only measure a few millimeters.
The researchers also studied bacterial microbiomes in the sperm of other animal groups, including primates and birds, hoping to better understand these creatures through the bacteria living in their semen.
There appears to be an evolutionary advantage behind having diverse sperm. It has to do with one thing: sperm competition.
Female animals typically mate with more than one male, so male animals have evolved to ensure their sperm can out-compete their rivals. This pressure facilitates more diverse sperm shapes and structures.
"They basically win at the game of sperm competition by getting rid of all the other males' sperm, and then inseminating with their own," Rowe said.
But what about bacteria in human reproductive systems? It turns out that humans may have some skin in the sperm competition game, too.
Rowe explains human sperm can survive for days in the female reproductive tract, so overlapping partners could theoretically compete.
But human testes just can't stack up next to animals like chimpanzees, whose liberal mating habits offer plenty of opportunity for sperm competition.
"That sort of suggests that humans are fairly moderate on the sperm competition scale, in terms of evolutionary reproductive traits," Rowe said.
INVERSE IS COUNTING DOWN THE 20 STORIES THAT MADE US SAY 'WTF' IN 2020. THIS IS NUMBER 12. READ THE ORIGINAL STORY HERE.