Philadelphia's Water Scare Highlights the Alarming Frequency of US Chemical Spills
No, it's not in your head — chemical spills are extremely common in the U.S.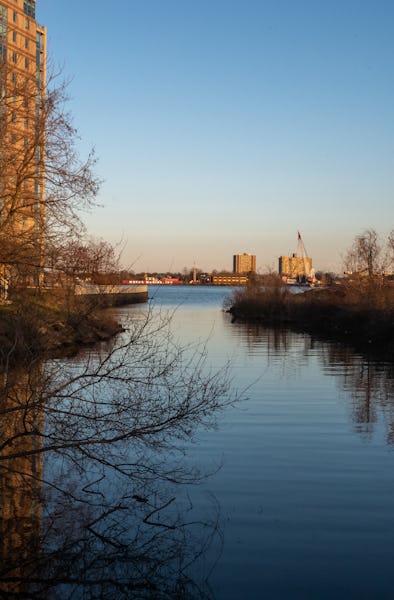 Anadolu Agency/Anadolu Agency/Getty Images
As residents of East Palestine, Ohio continue to grapple with the aftermath of a toxic chemical spill following the Norfolk Southern train derailment in February, another environmental disaster is unfolding about 400 miles east.
Late Friday, March 24, officials in Bucks County, Pennsylvania, warned of an accidental spill from a chemical plant. An estimated 8,100 gallons of latex emulsion solution — which is used to make a variety of adhesives and plastic products — trickled from Otter Creek into the Delaware River.
Officials and residents in nearby communities (including the 1.5 million people living in Philadelphia) are rightfully concerned about the impacts that this spill will have on human health and the environment. Here's what we know so far, and why chemical disasters seem so common these days.
What's in the water?
The spill originated from the Trinseo Altuglas chemical facility in Bristol, PA. An official company statement says it started when a latex emulsion solution overflowed from where it was stored and traveled down a storm drain into Otter Creek.
The company says that the solution was 50 percent water and 50 percent latex polymer. Further clarification from government officials specified that the solution included ethyl acrylate, butyl acrylate, and methyl methacrylate, as reported by The Philadelphia Inquirer.
You might recognize butyl acrylate from the East Palestine disaster — it was one of the substances that burned and released a toxic cloud over the town following the train derailment. Butyl acrylate is extremely flammable, as are the other two compounds released into the Delaware.
When burned, all three substances can cause irritation to the throat and lungs. Exposure through skin contact or inhalation can cause headaches, skin rashes, and difficulty breathing, as reported in official NIOSH guides (which are written for people who work with and manufacture these chemicals).
However, the situation is a bit different when these compounds end up in the water. While some chemicals are known to stick around and accumulate in the environment for a long time — such as mercury and PFAS — the ones spilled in the Delaware River don't have the same longevity.
What could these substances do?
Butyl acrylate, ethyl acrylate, and methyl methacrylate are all known to break down relatively quickly. These compounds have a low bioaccumulation hazard — meaning they don't stick around in fish and plants over time. They evaporate into the air and biodegrade in water and soil, and agencies will also treat water with powder-activated carbon and chlorine to remove them in event of a spill.
Ethyl acrylate is actually found in a number of naturally-occuring sources, such as pineapples, blackberries, and passionfruit. It was even formerly used in small quantities as a food additive. In 2018, the FDA banned the use of ethyl acrylate in food after the agency was petitioned by environmental and consumer groups due to potential links to cancer in animals.
However, the substance is not recognized as a known carcinogen by the FDA or other agencies, such as the European Food Safety Authority. Small doses, the data show, are largely safe for human consumption — though there is a possibility that exposure to large amounts could lead to cancer.
And there's still a gap in scientific understanding of what ethyl acrylate and the other two substances can do to the environment in large quantities. During chemical spills, uncontrolled amounts of compounds permeate soil, air, and water, making it difficult to track their full effects.
A 2022 study from the journal Ecotoxicology and Environmental Safety found that butyl acrylate was acutely toxic to two types of marine algae when exposed to high quantities. And studies of ethyl acrylate in rats showed that they developed stomach lesions after ingesting the compound for 12 months straight. Some later developed tumors (both cancerous and non-cancerous).
Multiple government and facilities officials have stated that there's no trace amount of the latex solution in the water supply near the Bristol plant, including in Philadelphia. While quick action may have averted a contamination crisis in eastern Pennsylvania, other places haven't been so lucky.
Are chemical spills becoming more common?
Chemical disasters are a very frequent occurrence in the United States. While the East Palestine and Bucks County disasters quickly made national headlines, there have been dozens of other incidents since the beginning of 2023.
Data collected by the Coalition to Prevent Chemical Disasters, a group of conservation and environmental organizations, shows that Americans are experiencing a chemical disaster every one-and-a-half days on average. (They keep a tracker of environmental disasters as they happen around the country).
In February, The Guardian published an analysis of EPA data and other data from environmental nonprofits, looking at the frequency of chemical incidents since 2004. They found that roughly 160 happened per year from 2004 to 2013. From 2014 through 2020, there were 775 total, which shakes out to about 110 every year.
Climate change also poses an added risk to these types of disasters. Experts predict that warming conditions will lead to an increase in rainfall (which we've already seen in some parts of the country), and that could leave many chemical facilities prone to flooding, which in turn causes damage to equipment and can lead to accidental spills.
A 2018 New York Times report mapped out the locations of chemical facilities that lie in flood-prone areas; there are over 100 in the Houston, Texas area alone.
But it's not all doom and gloom. Landmark legislation like the Clean Water Act has helped keep pollutants out of rivers and lakes nationwide for 50 years. And most Americans consider water pollution to be their top environmental concern, according to a 2021 Gallup poll.
While we still have a ways to go to bring down the frequency of chemical spills, the data shows that people don't take these disasters lightly.