With flowers and songs, Xiuhtezcatl Martinez tells an urgent climate story
He was a child climate activist. On the cusp of adulthood, his job is bigger than ever.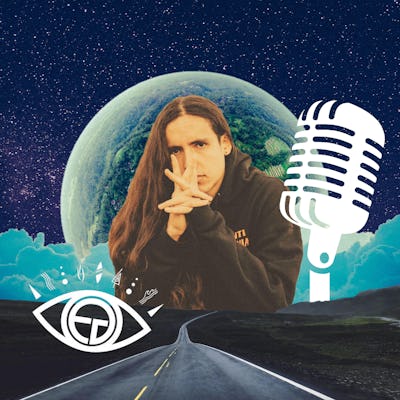 Natasha Chomko/Xiuhtezcatl Martinez
Nineteen-year-old Xiuhtezcatl Martinez hopes his legacy will be "flowers and songs." The phrase, which comes from an Aztec poem, contains multitudes for Martinez, Colorado-born and of indigenous descent. "Flowers and songs" means protecting and uplifting a cultural legacy. But it takes on a literal meaning for the hip-hop artist and climate crisis activist.
Martinez has been in the public eye since he spoke at a local environmental rally at just 6 years old. That was just the start. At 13, President Barack Obama awarded him the US Community Service Award, and at 15 he addressed the United Nations' General Assembly. He's a plaintiff in an ongoing lawsuit against the federal government over inaction on climate change, and he is the youth director of Earth Guardians, a conservation organization.
Also read: The climate movement is gaining energy because of a new kind of activist
He's been busy. He's also not slowing down. But what he can do — and what he wants to do — with his public platform is changing. Martinez tells Inverse that when he first got into the world of climate change activism, "it was just a lot of old white people at these events I pulling up to." Now, "you see so many beautiful young people of color at the forefront, who are truly sharing their voices in a way that hasn't been seen before," he says.
"You see so many beautiful young people of color … sharing their voices in a way that hasn't been seen before."
Their presence embodies what the climate movement should be — and it's his goal to continue to uplift those youth and sustain their presence, he says. Martinez has come to the conclusion that climate justice means more than lessening carbon dioxide levels from the atmosphere. It's about challenging systems of oppression and empowering indigenous leadership. It's looking at the climate crisis holistically and recognizing how it rattles cultures.
"It's been a very crazy journey, learning how best to approach the climate crisis and create new ways of addressing it," Martinez says. "It's something that I've been thinking about my whole life. Ultimately, the climate crisis threatens human culture and its foundation — and our response needs to reflect that."
"The climate crisis threatens human culture and its foundation — and our response needs to reflect that."
As Martinez approaches adulthood, he's focused on two projects. One is a platform called NOW. NOW's goal is to create partnerships with brands, nonprofits, and artists to determine new forms of climate action that bridge the gap between slow-moving climate policy and the rapidity of new digital media. For its first act, NOW plans to plant trees with drones, starting in 2020. People can go to NOW and subscribe to plant trees. That money goes towards a goal of 20 billion trees planted over 50 years.
Those actions are Martinez's flowers. Then there's his songs, which are both social activism and a calling card for Martinez's own ambitions. On his latest single, "S.W.Y.M.," he drops the lines, "Watch how the youth finna lead the way. / Our president ain't leading anyway," and "I'm waiting for no one; I'm making my mark."
"I'm waiting for no one; I'm making my mark."
Music is an opportunity to have both an elevated platform and pursue a type of activism he wants to push further. He sees it as a "massive recognition of my own story." It gives him the space to exercise some individuality while still paying homage to his community and the movement he champions.
"This music is super cathartic and very healing for me," Martinez says. "I have a lot more on my chest, and I convey things on this upcoming album that I've never expressed publicly."
Martinez is excited to "solidify my artistic identity" — an ambition he hopes two upcoming albums will help with. That identity is defined by his heritage: native Mexican, or Aztec, from his father, and his mother is a founder of Earth Guardian. Martinez sees himself as carrying a dual legacy, one of environmental activism and indigenous culture.
"Until I was about 10, all I knew was our culture, how we engaged with nature, and that deep interconnectedness," Martinez says. "For us, the preservation of this planet is a work of cultural survival as well."
"I see it as my life mission to create a platform for other young people."
He's acutely aware that he is in a position of influence because he has a platform — most of his peers aren't given that space. Achieving it has been a mix of hard work and destiny, Martinez says. After his ancestors were colonized, they shared stories about a moment where their people would return to reclaim their freedom and power, he explains.
That time is approaching, and the liberation of indigenous people is "inherently connected to the restoration of Earth's balance," he says. Freedom and power means having a voice that others listen to — whether it's in the studio or in a street protest. In 20 to 50 years, when he's chilling with his family on the land, whether that be in Mexico or Los Angeles, Martinez hopes he's known as an artist who influenced music and culture, and created a space for indigenous youth.
"I see it as my life mission to create a platform for other young people," Martinez says. "That's my entire vision for NOW, with Earth Guardians, with my music. Those are launching places for young people to use their passion and create change."
Xiuhtezcatl Martinez is a member of the Inverse Future 50, a group of 50 people who will be forces of good in the 2020s.
Also read: The climate movement is gaining energy because of a new kind of activist