This smartphone app can detect eye diseases
This could help a lot of people.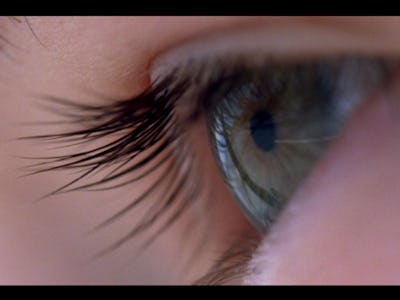 Wild Bunch
Researchers claim to have found a way to use a smartphone app to detect signs of an eye issue called leukocoria, or "white eye," in children using a parent's existing photos.
In a new study published in the journal Science Advances, these researchers claim an app that scans your children's eyes in photographs you take of them with your phone throughout their childhood could autonomously analyze these images to check for signs of this eye problem.
Bryan F. Shaw, an associate professor of biochemistry at Baylor University and one of the authors of the study, tells Inverse that early detection of white eye is crucial.
"If a child's vision is being impaired, due to a non-life threatening condition, such as severe refractive error or cataract, you want to intervene early so the child can develop normally," Shaw says. "I became interested in transforming leukocoria detection after my own son developed bilateral retinoblastoma. We caught his cancer by seeing white glowing pupils in his photographs. This 'white eye,' or leukocoria as doctor's call it, was caused by the direct reflection of light off his tumors."
See also: This App Will Calculate Which Life Choice Is a Bigger Risk for Your Health
Essentially, white eye can be a sign of many medical issues, including Coats disease, a lazy eye, a form of cancer called retinoblastoma and more. Some of these medical issues are life-threatening and some are not, and Shaw says some of these issues are very rare and some are quite common.
The app, called CRADLE (Computer-Assisted Detector of Leukocoria), was developed using 52,000 "casual photos" of 20 children. Typically, a doctor would check if a child has signs of white eye, but the researchers argue that a child only gets tested for this kind of problem so often. With an app constantly checking photos of a child for signs of white eye, a parent may be much more likely to spot the disease or other medical issues before they get worse.
The CRADLE app is able to identify signs of white eye in photos using artificial neural networks. Since the app operates autonomously, you don't need to put any effort in to be checking for white eye. Parents just take normal photos of their child, as they surely always do, and they're good. Shaw says he hopes parents will start using this app to make sure their children aren't starting to show signs of white eye without them realizing it.
"Doctors check children for 'white eye' at every checkup. They use a handheld ophthalmoscope to perform what is called "the red reflex test," Shaw says. "It is notoriously ineffective at detecting leukocoria when someone other than an ophthalmologist is performing the exam and the eyes are not dilated."
Shaw says it turns out that parents are probably better at detecting leukocoria than pediatricians. When a parent uses flash to take a photo of their child, the CRADLE app can relatively easily identify signs of white eye.
"Parents take a lot of pictures of children, and if the children have eye disorders, they often exhibit 'white eye' 10 times more often than healthy kids," Shaw says. "For many of the children we examined, the 'white eye detector' app would have detected leukocoria long before the doctors ever noticed it."
Abstract:
The use of a handheld direct ophthalmoscope to screen children for leukocoria ("white eye") is a core component of a pediatric examination but has limited effectiveness at detecting common and rare eye disorders. Leukocoria also presents in personal photographs taken by parents but is often observed retrospectively after diagnosis. The clinical utility of automatically screening a parent's personal photographs for leukocoria is unreported. Here, a prototype smartphone application (CRADLE: Computer-Assisted Detector of Leukocoria) was engineered to autonomously search for leukocoria in casual photographs of children and made available for free download under the name "White Eye Detector." This study determined the sensitivity, specificity, and accuracy of the prototype by retrospectively analyzing 52,982 longitudinal photographs of children, collected by parents before their enrollment in this study. The cohort included 20 children who developed an eye disorder (retinoblastoma, Coats' disease, cataract, anisometropic amblyopia, or hyperopia) and 20 control children. For 80% of children with eye disorders, the application detected leukocoria in photographs taken before diagnosis by 1.3 years (95% confidence interval, 0.4 to 2.3 years). The automated screening of personal photographs for leukocoria—photographs of children playing, eating, and celebrating a holiday—is a feasible method by which parents can use smartphones to augment clinical leukocoria screening throughout child development.