A Thickener Used in Pot Vaping Is a Hugely Popular Black-Market Scam
Vitamin E acetate is used to thicken THC oil, but sellers are running scared as investigators close in.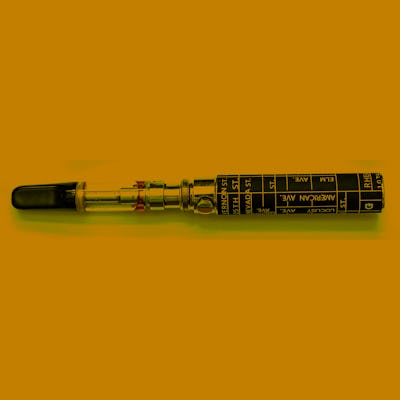 Inverse
Long before 380 cases of a "vaping-related illness" caught the attention of various state health departments, the FDA, and the CDC, sellers within the black market vaping economy already knew they had a problem: Consumers were starting to figure out that their knock-off THC vaping products were full of crap.
The answer to this problem came in the form of vitamin E acetate, a thickening agent that seemed like the "perfect solution." But the thickening agent used to cover up low-quality THC oil may be exactly what brings the dangerous black market out into sunlight.
As cases of a "vaping-related" illness have spread throughout 36 states in the past two months, investigations by state health departments all the way up to the CDC and FDA have gotten underway. Right now, the focus has been on "vaping," which encompasses a complex and quick-moving landscape of hundreds of different companies, chemicals, and styles. For instance, you can vape nicotine, the stimulant delivered by companies like JUUL and Blu.
You can also vape THC oil that's distilled from cannabis. Some of those THC vape cartridges are made by licensed companies in states where recreational marijuana is legal. But others are made by black market sellers who cut their products with unknown chemicals and thicken it with vitamin E acetate, as thickness is often shorthand for quality. (It's not.)
See Also: Dank Vapes Is The "Biggest Conspiracy In Pot That Can Put You in a Coma
Editor's Note: As of 11:00 a.m. Eastern, 9/13/2019, this story has been updated to reflect the most current information about the CDC's case count. Initially the CDC counted possible, probable, and confirmed cases, which totaled 450 in 33 states. Excluding "possible" cases, that number is now 380 in 36 states.
Case reports published this month in the New England Journal of Medicine suggest that there's a mixture of nicotine and THC products to blame for this rash of vaping-related illness — but so far, no real vape company has been implicated.
In response to the trend of apparently vaping-related illnesses across the US, President Trump, the FDA, and the CDC are pushing to have most flavored e-cigarette products banned from the legal market in the coming weeks. And while nicotine e-cigarettes may be in regulators' crosshairs, black market THC products have also appeared more than once in government investigations.
The NEJM report on vaping illnesses looked at cases in Wisconsin and Illinois and noted that 24 out of the 41 cases involved Dank Vapes, a fake brand from which unlicensed sellers can buy empty boxes and fill cartridges with whatever product they please. An investigation from the New York State Department of Health showed photos of Dank Vapes THC cartridges — as well as photos of products from an equally fake company called "Chronic Carts" — that were tied to illnesses in the state. And in this investigation, there appears to be a lead: These vape cartridges contained far more than just THC.
New York's investigation has focused on vitamin E acetate, a substance that was connected to all of the THC vape samples linked to illnesses in New York. (It was also found in high levels in Dank Vapes and Chronic Carts.)
Sources familiar with the black market THC vape economy tell Inverse that vitamin E acetate is a newcomer — the "thickener" that in some circles was marketed as a "perfect" way to cut THC distillates to make them appear high quality.
"The black market started to see that we looked for 'thick' oil, so they developed a thickener with zero regard for safety," says dankbustersofficial, a watchdog Instagram account that now has 23,500 followers as of the time of this writing. "I started seeing oil that looked 'clean' on the black market about two months ago."
Now, the news that vitamin E acetate might be to blame for the illnesses has sent a shockwave through the supply chain of do-it-yourself vape sellers and companies that specifically sold these thickening agents. In some cases, these thickeners were sold legally but were widely abused by the black market.
Now, some thickener companies are pulling their products as local health departments close in. But some samples are still floating around online.
How Did Vitamin E Acetate End Up in Vape Cartridges?
When someone buys a Dank Vape, Chronic Cart, or even a legitimate THC cartridge brand, the vape cartridge is not always filled with pure THC distillate. Cartridges often include added terpenes, organic flavoring compounds that are used to flavor e-liquids, including THC vapes. In typical concentrations, terpenes aren't linked to serious negative side effects, but other ingredients can be harmful. Black market cartridges — "carts" for short — can also contain heavy metals or pesticides that are left over from an unregulated cultivation and distillation process.
"Some of these companies supposedly are disappearing now after this…"
More recently, cartridges are being cut with other thickening agents. Bert, the founder of the website DabConnection, a community dedicated to reviewing products and tracking down low-quality or fake THC cartridges, tells Inverse that thick oils are coveted — and sometimes thickeners are used to help mimic the look of high-quality distillate. He also asked that we not run his last name, to protect his privacy.
"The thicker carts are better than the not thick ones. Also, when it's thicker, it seems like it vapes slower. So a nice thick cartridge is going to vape slower than a runny one," Bert says. "These [thickeners] are all junk and also part of the problem — some of these companies supposedly are disappearing now after this, as some of them might have had vitamin E acetate."
Traditional cuts might have included medium chain triglycerides (MCT) — a component that's found in coconut oil, for instance. But they also include an excess of terpenes or cuts that are more commonly associated with e-cigarettes, like vegetable glycerin or propylene glycol. More recently, vitamin E acetate has emerged as a new alternative because it offers an even thicker cut that allows sellers to beat the "bubble test," a way that consumers used to be able to judge a quality distillate.
"When you turn the vape cartridge the other way, if the bubble freely flows then it's got some kind of cutting agent. It's not high-potency distillate," Myron Ronay, the CEO of BelCosta Labs in California, tells Inverse. "The thickeners, this vitamin E acetate, is a much thicker product so that when you do the bubble test, it moves slower, which makes it appear, on visual inspection, to be a more concentrated distillate."
Ronay says that his lab will test for vitamin E acetate in vaporizer cartridges in light of the investigation into the thickeners. They expect to have those tests up and running in the next few weeks. Before this, vitamin E wasn't something labs even knew to test for.
A thickener like vitamin E acetate could help a black market dealer beat what Ronay and dankbustersofficial call "the bubble test." And because of this, an entire economy of "proprietary" vitamin E acetate-based thickeners emerged to meet the demand.
But for now, at least, the bubble test is dead.
The Thickener Economy
Redditor /u/tom_era, the moderator of the /r/fakecartridges subreddit, tells Inverse that he's more worried about pesticides than thickeners, personally. The user explains it is hard to tell just how common these thickeners are, but adds that it's most often smaller sellers who buy them, not large-scale operations.
"It's hard to say as a consumer just how much of a cart's oil is filled with these thickening agents," he tells Inverse. "The price of cheap pesticide-filled distillate is extremely cheap — $3 per gram cheap, in bulk, and these thickening agents are much cheaper than that. So big cart fillers and suppliers don't use it as often as smaller groups, who don't buy product in huge bulk."
Several companies advertise branded thickening agents containing vitamin E acetate or other, sometimes unspecified ingredients. Brands like "Honey Cut," an "all-natural" thickening agent, can be found on ebay. But there are many other thickening manufacturers out there. The Candy Cut, for instance, is a company reportedly based out of Tampa, Florida, claiming to sell thickening and cutting agents by the half-gallon but doesn't disclose what is actually in them. The Candy Cut did not respond to Inverse's request for comment.
A half gallon sells for $1,499, according to The Candy Cut's website. That's a quick way to fill a lot of traditional, one-millimeter vape cartridges, but it's also an untested one. Still, several manufacturers jumped on board at the prospect.
This week, Mass Terpenes, a company that manufactures additives and thickeners, ran an announcement on its website declaring that it would no longer sell vitamin E acetate thickeners, including its product Pure Diluent. The company was served with a subpoena by New York State, along with Honey Cut Labs in California and Floraplex Terpenes in Michigan, on Monday, September 9.
"…we were the ONLY company that explicitly stated that thickeners contained vitamin E acetate."
"We started carrying this product after they became widely available through the primary terpene suppliers in the industry," the Mass Terpenes statement reads. "We maintain the fact that while COUNTLESS other terpene companies were offering the same product, we were the ONLY company that explicitly stated that thickeners contained vitamin E acetate so our customers could make their own informed decisions."
Mass Terpenes, LLC did not respond to Inverse's request for comment. But the company does make a fair point: It was one of many manufacturers that sold vitamin E acetate thickeners. And importantly, not all of these products were actually marketed for use in vape liquids.
For example, the Perfumer's Apprentice, a California-based perfumery shop that specializes in flavoring, doesn't manufacture vape liquids, but they did sell a thickening agent containing vitamin E acetate called "Apprentice Thickener Extra." A company representative told Inverse that its product wasn't intended for use in vape products at all:
As soon as we learned that this ingredient was listed as the potential culprit leading to lung injuries, we removed it from the website in order to screen customers, ensuring it wouldn't be used for inhalation. We are finishing the process today of reaching out to each customer to verify they are using "Apprentice Thickener Extra" for its intended use.
The Perfumer's Apprentice notes that vitamin E acetate is a common preservative and is intended for use in skincare blends. A spokesperson for New York's Department of Health confirmed to Inverse that vitamin E acetate is "commonly available as an oral supplement in soft gelatin capsule form and is present in many topical products as well." But they added that "questions about thickeners in vaping products would be best answered by manufacturers or states with legal recreational marijuana programs."
One manufacturer who responded to Inverse's request was Andrew Jones, the founder of the Oregon-based companies Mr Extractor and Connoisseur Concentrates. Jones released a statement on his website, MrExtractor.com, regarding his product "Clear Cut" — a vitamin E acetate thickener specifically for vaping products — in response to reporting from David Downs at Leafly.
Jones maintains that if vitamin E acetate is truly to blame for these cases, it's a huge problem. He estimates that it's in "60 to 70 percent of the carts on the market today." Four months ago, dankbustersofficial posted a photo of his product Clear Cut; in the caption, one user guessed, "apparently the guy selling these has had half a million preorders already."
Jones' strange story behind his thickeners highlights not only how science has been misused to justify the safety of certain untested vape products, but how regulatory agencies are faced with a fast-moving vaporizer market that evolves as quickly as consumer preferences change.
"We all came to the same conclusion — that the product was suitable for use."
The "Perfect Solution"
Inverse reached out to Jones, who explained that when he created his product, he believed it was safe for use. Jones' product, Clear Cut, which contained vitamin E acetate, is no longer available. He called his thickener products (not just the ones that involved vitamin E acetate) "a revolution to the cannabis industry."
"It had no taste, smell, odor, and blended perfectly. It appeared to be the perfect solution to a health-conscious client base who wanted to stay away from chemicals," Jones tells Inverse.
"No one would have thought that a regulated vitamin that has been vaped for years could have potentially caused these issues. Each company in the industry received the vitamin E acetate, be it through one of the 50 companies selling it under their own brand name — Final Cut, Uber Thick, Thickener Extra — and also did their internal due diligence. We all came to the same conclusion, that the product was suitable for use."
Not everyone agrees with his assertion that ingredients like vitamins are safe to vape, and that there was evidence to this effect.
"No one would have thought that a regulated vitamin that has been vaped for years could have potentially caused these issues."
In his statement, Jones relies on FDA documents, noting that the additive is "generally recognized as safe," but that documentation deals with food additives, not vaporizers.
Jones also leans upon several scientific studies that he claims demonstrate that vaping vitamin E acetate is "beneficial to the lungs." These studies include one on rats, one on sheep, a review demonstrating that vitamin E acetate supplementation showed "conflicting outcomes" on asthma risk, and another examining whether smokers tend to have deficiencies in vitamin E acetate.
None of the studies deal with the potential side effects of vitamin E acetate when heated and inhaled through a vaporizer.
Michelle Peace, Ph.D., a forensic scientist at Virginia Commonwealth University who has studied vaping for five years, tells Inverse that we still don't have definitive clinical evidence that vegetable glycerin or propylene glycol, the more commonly accepted additives in vape liquids, are safe, let alone vitamin E acetate.
"That makes my blood boil," she added, when Inverse directed her to the evidence presented on Mr Extractor's page.
To his credit, Jones made his intentions known to regulatory agencies, including the Oregon Liquor Control Commission (OLCC), which regulates marijuana products in his state. He says he met with the commission on May 30 to discuss the additive.
Mark Pettinger, a spokesperson for the OLCC's recreational cannabis branch, confirmed to Inverse that the meeting happened, largely to discuss the "proprietary additive he proposed using in vape cartridges." That additive is Clear Cut, which Jones described at the time as a stabilizer vitamin E acetate oil product.
Pettinger tells Inverse that the agency "did not give Andrew Jones or his companies, 'Mr Extractor' and 'Connoisseur Concentrates,' any approval to 'sell an additive' into Oregon's regulated recreational marijuana market."
"That makes my blood boil."
At this point, however, it's unclear whether vitamin E acetate thickener would have even required approval by the OLCC. After all, it doesn't contain any marijuana derivatives. Jones' companies, Mr Extractor and Connoisseur Concentrates, are not licensed by the OLCC — but to sell vitamin E acetate, you don't have to be.
Instead, Jones met with the OLCC to discuss what would happen if, say, a licensed vape company had decided to use his thickeners. That, as Pettinger explains, would require that they disclose the use of that additive on the label.
Of course, if the person who purchased the thickener was a black market seller using a Dank Vapes or Chronic Carts box to sell their cartridges, the odds of them listing that ingredient would be slim to none.
Thickeners Seem to Live in a Strange Gray Area
In short, thickeners have occupied a strange gray area, where they weren't necessarily illegal but were being used to help cut unregulated products on the black market. Posts on both dabconnection and dankbustersofficial warn users about these cutting agents — some as early as July 2019, weeks before New York turned its attention towards them.
At the time, there was nothing obviously nefarious about them, at first glance. But the safety evidence wasn't there, either. Thickeners emerged quickly, and if Jones' estimates truly are correct, they've spread widely throughout the market. Especially the black market, where products' packaging rarely ever lists all the ingredients they contain.
In other words, thickeners are just the latest example of how quickly the products that go into THC vape cartridges can change without consumers realizing it until it's too late.
No One Single Chemical
While vitamin E acetate is taking center stage in this investigation, public health experts caution that it's too early to pin all the cases down on a single chemical. It's a promising lead, but vitamin E acetate is just the tip of the iceberg, warns Peace.
"I think there have probably been pockets of this for years," she tells Inverse. "Now the stories are all just coalescing. Maybe it's because there's a new additive, maybe it's because it's just time for all the stories to coalesce, because the numbers are big enough now."
"I think there have probably been pockets of this for years."
It may be shown that vitamin E acetate is behind the illnesses, but as the case count climbs, it may just be the latest in an an ever-changing cast of additives being mixed surreptitiously into cartridges, packed into cheap boxes, and sold around the country.
Even if vitamin E acetate isn't the cause, it's a symptom of a bigger disease — a market that moves so quickly, it's hard to know what's in every cartridge. For now, investigators, governmental officials, and unofficial dank busters can at least agree on one thing:
"I can't recommend that anyone use ANY type of vape products until it's 100 percent safe," dankbustersofficial warns.
If you have an experience with black market THC vapes or knowledge about the industry you want to share, you can reach the author at emma.betuel@inverse.com