3 Best Microwaves on Amazon Right Now
Countertop models come in a range of sizes.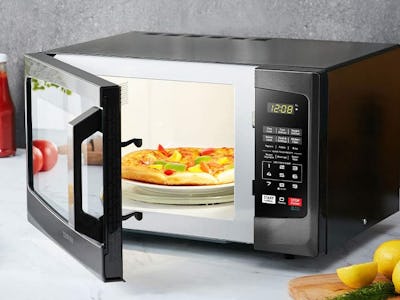 Amazon
Whether you use them to heat leftovers, defrost food, or make popcorn, microwaves are handy and versatile appliances. Countertop microwaves come in a range of sizes and powers, and you'll probably select a size based on where you 'll put it and what you'll use it for. Countertop units are also reasonably priced, with smaller ones available for under $100.
We've checked out Amazon to find highly rated microwave ovens in a variety of sizes. User ratings indicate these are the best options.
Why We Picked It If space on your counter is tight, you want a compact microwave oven. This Toshiba is less than 20 inches long but it still has a 0.9 cubic-foot interior and delivers 900 watts of power. The turntable is 10.6 inches wide—plenty big enough for popcorn or warming a plate of leftovers. Features include six pre-programmed functions and a power-saving mode. You can also turn the sound off if microwave buzzers irritate you (and based on review comments, they bother a ton of people).
Why We Picked It If you cook for a lot of people, the 2.2 cubic capacity on this Panasonic model is what you need. The microwave delivers 1250 watts of power on high, so it cooks fast and evenly. Features include an automatic "Genius Sensor" that adjusts cook times and power for different foods. There are also 14 presets for common items that get microwaved, and the microwave employs "inverter technology" that allows you to simmer delicate foods without overcooking.
Why We Picked It This midsize microwave delivers 1000 watts of power and has a convection oven function, so you can cook in two ways with one appliance. There's also a grill rack you can use with the convection function. This Toshiba has a capacity of 1.5 cubic feet, putting in squarely in the middle when it comes to sizes of countertop microwaves, and the turntable is 13.6 inches wide. In addition to using pre-programmed settings for common foods like pizza, you can create pre-sets for three of your favorite time/power combos for convenience.