Use This Sleep Quiz to Find the Perfect Mattress Match for You
Cut through the confusion and find a good night's rest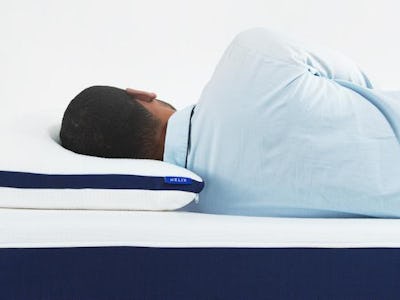 Helix
Shopping for a mattress is a big task. You're looking for a major item you expect to use every night for the next decade or more. When you're shopping online, you don't even have the option of stretching out and seeing how the mattress feels.
That's why Helix came up with its Sleep Quiz. Simply fill in a few details about you and your sleep partner (like your height, weight, and preferred mattress firmness), and Helix recommends the mattress that will work best in your situation.
One of the most important questions Helix asks is your preferred sleep position. That's because side sleepers need a different level of support than back sleepers and stomach sleepers.
Helix has some mattresses that are specifically for those who sleep on their side—they're good for people who toss and turn all night, too. Other mattresses are labeled for all sleep positions, and they're best for those back and stomach sleepers, plus side sleepers who are on the heavy side.
Another preference that affects your choice of mattress is desired firmness. With Helix, you can choose from soft, medium, or firm feeling mattresses.
Helix also has a Luxe line that includes zoned lumbar support coils, a premium quilted top, and a breathable cover to help you keep cool. The Luxe mattress is also thicker than the standard mattress.
If you and your partner have very different sleep needs, the company will even specially make a mattress with one side matching your partner's needs and the other side matching your needs. Win-win.
Helix mattresses are made from layers of foam of different densities to provide just the right support for your sleep position – and there's no latex so allergies aren't a concern. You never need to flip or rotate the mattress.
Helix offers a 100-night sleep guarantee and the mattresses have a 10-year warranty.
All that choice is good, but it adds to the complexity of choosing a new mattress. If you're thinking about upgrading your mattress, check out the Sleep Quiz.