Lensabl Lens Replacement Gives New Life to Your Favorite Pair of Old Frames
Get upgraded lenses for upcycled glasses.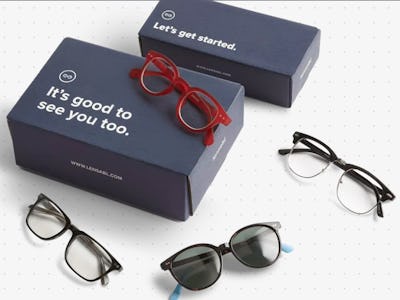 Lensabl
Between the cost of getting your eyes checked and the price of purchasing a new pair of glasses, you can be out a few hundred dollars. And not only that, it takes a lot of time. If you're like most Americans and short on money or time, you need a better solution for upgrading your glasses after your prescription has changed. Especially, if you love the glasses you already have. Getting a new pair feels like a waste, which is where Lensabl lens replacement comes in.
Lensabl is an eco-conscious way to upgrade glasses with new lenses. With Lensibl you can cheaply replace old lenses with your updated prescription to keep your favorite frames! Not only can you update old specs with new lenses you can choose to change them altogether by adding a sunglass tint. Plus, the whole process is conveniently done by mail! But that's not all, using Lensabl is cheaper and more convenient than having to shop for new frames. Every glasses wearer understands the pain of having to find the right fit and feel for your face. After discovering that more people wanted to simply sub out old lenses for updates ones Lensabl was born.
Lensabl co-founders, Michael and Andy, initially, the duo partnered to build a sunglass brand but became overwhelmed with requests from friends and customers to directly ship the glasses they already owned to fix or change prescription lenses. Realizing how ridiculous it would be to direct their friends to big-box retailers or traditional opticians, they saw the opportunity to create a better way of fulfilling Rx lenses— and Lensabl was born.
With Lensabl convenience is key. There's no need for you to leave home because the entire process comes to you. After you choose your new lenses, Lensabl sends you a shipping box with prepaid postage. Stuff your old glasses inside and send them to Lensabl's Los Angeles lab There your new lenses will be made with your updated prescription. Before your glasses are shipped back to you the Lensabl experts perform rigorous quality checks, ensuring quality control. The entire process takes about two weeks before you'll receive your favorite frames with their updated lenses.
Significantly lower prices for starters. On average, Lensabl will save you 70 percent compared to optician prices. Lensabl achieves this by cutting out the middlemen, and their chunk of your money. But lower prices are just the beginning. Lensabl offers the latest lens technology to give you the best possible vision with every order. This includes anti-reflective coating, scratch-resistance, an ultraviolet blocking treatment, and a hydrophobic coating. And they're all custom made, fitted, and tested in Lensabl's state-of-the-art facility in Los Angeles, CA.
If you're looking for the best eyeglass lenses for your needs, Lensabl's got your back. Choose them to upcycle your own glasses with not only the ethical way of upgrading your prescription but the cheaper one.