This Protective Battery iPhone Case Is the Absolute T
You don't have to choose between protection and charging function with this case.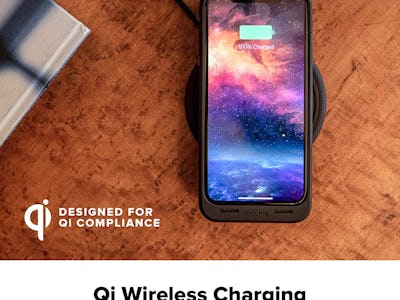 Amazon
Among my friends, we're all phone addicts and we're not outside the norm. My partner has to charge his phone up to 4 times a day, while my other friend complains that she's never without her charging cord. Many of us have moved chargers into our cars and even started carrying external batteries for convenient charging when we're not near an outlet.
But what if there was a stylish, protective and functional charging case on that kept you from living your life tied to an outlet? That's where the mophie Juice Pack Air comes in. Designed specifically for the iPhone Xs/X, mophie knows how bad iPhone batteries can be and proposed the easy solution—a charging case.
What makes this particular charging case stand out among the competition is many fold, but firstly, it's light as air and slim design doesn't add extra bulk to the dainty design of the beloved iPhone. What the slim design allows for is convenient capability with all wireless chargers. If you've ever had a bulky case on your iPhone and have gone to charge it wirelessly, you've probably found yourself sighing as you try to pry your phone from the clutches of a heavy duty case.
From there, you are able to account for up to 34 hours of additional battery life from your phone. This makes it perfect for long travel days, camping trips and lengthy commutes. When the 34 hours is up, recharging your mophie Juice Pack Air is an easy as pulling out the Apple lightning cable that we've all been known to carry—making it the perfect companion for any Apple devotee unlikely to be carrying a microUSB cord.