NASA Taps SpaceX for Science Mission to Study X-Rays From Black Holes
The hidden details of some of the most exotic astronomical objects in our universe may come into greater focus.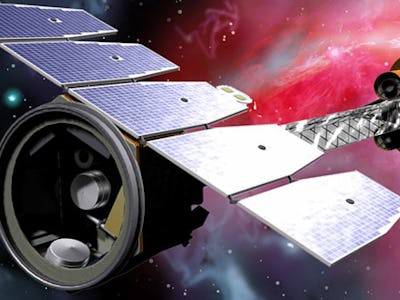 NASA
The hidden details of some of the most exotic astronomical objects in our universe may come into greater focus, once SpaceX puts it into orbit.
NASA has contracted with Elon Musk's aerospace firm to the tune of $50.3 million, it announced this week, to provide the launch vehicle for the Imaging X-Ray Polarimetry Explorer (IXPE) mission, which will allow astronomers to measure polarized X-rays from objects, such as black holes, neutron stars, pulsars and supernova remnants. The launch is scheduled for April 2021.
SpaceX will launch an already-flown Falcon 9 rocket, more than likely from pad 39A in the Kennedy Space Center in Florida on its way to an orbit of the Earth at 334 miles. To compare, the International Space Station orbits at an altitude of 254 miles. IXPE's orbit will still be in what is considered called low Earth orbit, which covers a range between 99 and 1,240 miles above Earth.
"Discover How the Universe Works."
IXPE uses three identical telescopes to better understand these types of cosmic phenomena and extreme environments, supporting of NASA's first science objective in astrophysics: "Discover how the universe works."
The high-energy X-ray radiation from these objects' surrounding environment can be polarized — vibrating in a particular direction. Studying the polarization of X-rays reveals the physics of these objects and can provide insights into the high-temperature environments where they are created.
The unique tri-telescope system was invented and developed by Italian scientists and refined over the past 15 years by the Italian Istituto Nazionale di Fisica Nucleare. The total cost of the two-year mission is estimated to be in the region of $188 million.
Not only does the proven reliability of the reusable Falcon 9 save NASA at least some money with the launch, but this announcement marks a notable addition to the mission portfolio of SpaceX and strengthens the reputation of the California-based private enterprise as a serious player in the exploration of space.
Musk will no doubt be pleased about this, especially since SpaceX will be significantly involved in the forthcoming Artemis mission to return to the moon.
There's a wealth of technical information about the mission at the Earth Observation Resources site and NASA has produced a mission fact sheet here.