Tired of Hot Beer and Melted Ice? This Cooler Will Fix Everything
The Otterbox Venture Cooler does everything you didn't know a cooler could do.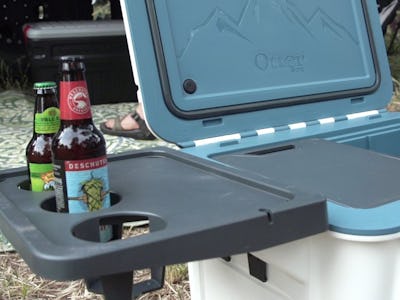 Amazon
One of the chief things keeping otherwise fun people from enjoying the great outdoors is the loss of amenities. Until now, you couldn't really spend a day [or a weekend] out on the water without foregoing the long standing benefits of refridgerator. You couldn't camp for a long weekend without worrying about the status of your cooler and all the ice that had inevitably melted within it.
My partner and I are both outdoor people with a tendency to prefer "glamping" to roughing it. Every year, we go on a week long camping trip, in which we pack most of our home kitchen and all the little things we might need and regret not bringing, but whenever it came to packing our cooler and maintaining the creature comforts we enjoy in our home kitchen. We were always left with something to be desired. That was until we learned of the Otterbox Venture Cooler.
Prior to owning this cooler, I was of the assumption that all coolers were pretty much the same. Sure, they came in varying shapes and sizes but beyond that, I felt that every cooler was designed to hold ice for a short period of time and that's all there was to it. But that's not at all the philosophy behind the Otterbox Venture Cooler.
Designed to be bear-proof with incorporated tough latches, unmatched at keeping ice for up to 14 days, easy to drain and more, the Otterbox Venture Cooler is an investment, but will be the only cooler you ever need to own. Otterbox knows that when they offer their lifetime warranty.
Included in your order of the Otterbox Venture Cooler is a convenient tray/cup holder that slips conveniently over the cooler's built in handles for extra prep space and storage as well as an attachable bottle opener and dry food storage. If you've ever been camping and forgotten a bottle opener,—or worse, lost the one person's keys who actually had a bottle opener—you know how well thought out the inclusion of a bottle opener on a cooler is. And more than that, if you've ever tried to pack a supposedly easily spread of burgers, hot dogs and the neccessary accoutrements, you know that the dry storage tray is absolutely vital to traveling with buns and avoiding water damage.
For the best outdoor experience away from home, make sure you pack your Otterbox Venture Cooler, included gadgets and consider also investing in wheels for added ease. The 45-quart model can hold up to 52 pounds of ice and that can get heavy. The specifcally designed slanted bottom makes draining melted ice easier than any competing model.
If you've owned anything from Otterbox in the past—think phone cases—you know that they mean business when it comes to providing top of the line products that protect the items you need most, this cooler is no different. With the Otterbox Venture Cooler, you will not only have additional seating anywhere you need it, but your food and drinks will be kept at appetizing temperature without all the usual hassle of less-innovative coolers.