These Towels Are Revolutionary and You Didn't Even Know They Existed
Adding these towels to your summer gear is a must.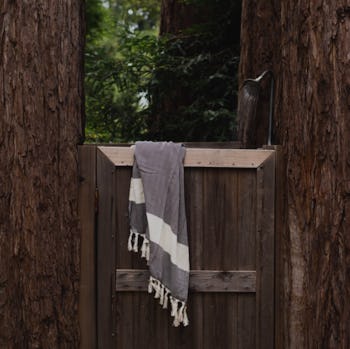 Huckberry
If you ask anyone who knows me, they'll tell you how much I love gear. I'm a commerce writer and looking at fun and interesting products all day has only fed my consumerism. Now, I don't just buy any product—I buy the best products and I usually feel pretty good doing it. Why? Because I've tirelessly researched the product, read all the reviews and may even have been lucky enough to have received samples. So, when I tell you that these Turkish Towels are missing from your summer gear, I mean it.
Being on the beach, by the pool or swimming hole, it's hard to look and feel your best sometimes. You may have gotten salt water up your nose, sand or dirt somewhere in your bathing suit, have a hell of a time keeping your hair from looking like you just got noogied repeatedly or some combination thereof. So when you're in this environment, it pays to feel like you have a curated collection of items that expresses your unique self.
The addition of Turkish Towels to your pool, beach or travel bag will prove to be invaluable. Great as a light blanket for long car rides or as a comfy cover for uncomfy poolside chairs, Turkish Towels have long been a staple of the Aegean Region of Turkey.
Handloomed and made from 100% long-fiber Turkish cotton, Turkish Towels get softer with every wash and prove to be more absorbent than regular towels while also drying much faster so you'll never be caught with a mildew scented towel. The tassled ends allow for a more refined look—perfect for draping over your shoulders for a well timed, fake-candid of yourself walking towards the ocean.
Not yet convinced? Huckberry offers 9 different patterns so that you can find the one that best represents you, collect them all or outfit your whole group as a very thoughtful present. I assure you that the addition of a Turkish Towel to your pack will leave you much more room for snacks, water bottles, phone chargers and all other essentials that usually end up stuffed between clunky traditional towels. What makes Turkish Towels especially special is at 40-inches by 70-inches, they're slightly larger than traditional beach towels, but they can fold down to the size of burrito for all the bag space you've been missing.