Get a Military-Grade VPN for an Incredibly Cheap Price
Protect Your Privacy Online, Lift Browsing Restrictions, & Enjoy 10Gbps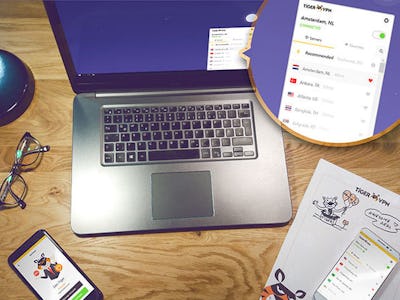 StackCommerce
The Details:
Go anonymous with military-grade encryption
Bypass any content or browsing restrictions
Use on any Windows, Mac, Android, or iOS device
Enjoy super low latency servers and speeds of up to 10Gbps
Use your favorite VPN protocol
Why You Want It: TigerVPN sets itself apart when it comes to personal data protection and privacy. Its military-grade encryption and IP mashing—a highly effective security technique whereby multiple users share dynamic IP addresses for ultra-anonymity—are next-level in terms of blocking trackers, stopping malware, and providing anonymity. Tiger also works cross-device on Windows, Mac, Android, & iOS, plus it gives you the freedom to choose your own protocol.
The Deal: Quality VPN subscriptions aren't usually very affordable, and this is especially true for the longer ones. The Inverse Shop currently offers a rare chance to sign up for one of the best 3-year options at 83% off the $429 MSRP—that's just $69.99 for a truly top-notch plan.