10 Unique Tech Items You Should Own
The Jetsons couldn't have even imagined the future of tech like this.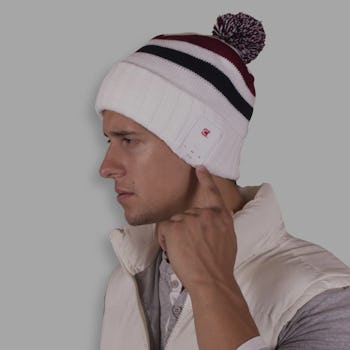 Amazon
Taking politics out of the equation, at some point in the last 10 years, we arrived in the future. Touch screens became the standard. Everything is wireless and rechargable. These days, you can cook and adjust your thermostat with just the push of a button in an app—from anywhere in the world. You can check in on your pets with some conveniently-placed cameras. Clapping isn't even the coolest way to turn lights on anymore.
With these 10 unique tech items, you can upgrade your look and step into the future the Jetsons imagined—all of which are under $100. These are items you didn't know you needed—possibly items you didn't even know existed—but they were invented to make your life easier, more streamlined and less cluttered. Ranging from wireless beanies to beautifully designed charging docks, electric fryers that don't even require oil and more, any item on this list would make a perfect gift to a close friend or coworker, but you shouldn't ever rule out treating yourself.
The Beanie With Speakers and A Microphone
Why We Picked It: Available in grey and black, this stylish beanie stands well on its own, but gets even better when you consider the luxury of built in speakers and headphones. It's so much more convenient to remember your hat than it is to remember where you put your AirPods or spend the entire length of your commute trying to untangle your wired headphones. The built-in battery is rechargable and lasts for 4 hours of continuous play or 30 hours of standby time.
The Handwarmers You Don't Have To Repurchase Every Time You Want To Use Them
Why We Picked It: Spring may be on its way but it's not here yet. So many of us jump the gun at the slightest bit of sunshine and end up underdressed for the weather. Each device creates double sided heat that you can stick in any pocket or safely hold. There are 3 pre-set temperatures to choose from for your comfort and the device will turn off automatically after an hour. Use them the all-too-cold spring baseball games and take them back out next winter, so you never have to buy disposable handwarmers again.
The Globe That Will Add Interest To Any Room or Desk
Why We Picked It: Chances are you spend a large portion of your day sitting at your desk and it probably gets pretty boring. Add some spice to your desk—or gift it to your coworker—with this magnetic floating globe. Set up can be completed in less than a minute.
The Waterproof Speaker You Can Keep In Your Shower
Why We Picked It: We spend hours of our life in the shower every month and if you live a busy life, it might be some of your only relaxation time. Make the most of it with this fully waterproof wireless speaker that you can keep in your shower. Battery charge lasts for up to 10 hours of continuous play time and with the included microphone, you can even answer calls for your shower if you are into that.
The USB Fan That Doubles As A Super Cool Clock
Why We Picked It: Sitting at your computer all day in any weather can get uncomfortable and stale fast. Cirulate the air around you while keeping track of your time—and necessary breaks—with this super cool fan that double as an LED analog clock. Perfect gift for yourself, a student you know or anyone who spends a lot of time at their desk.
The Kitchen Appliance That Makes Crispy Food Without Any Oil
Why We Picked It: Some air fryers on the market are bulky and not necessarily practical for those with limited space or small families. With this 3.7 quart air fryer, you can easily make yourself or a group of people delicious food without all the unhealthy trans fat found in foods made with a lot of oil. Simply place food in the fryer basket, pick one of 8 convenient preset functions and this air fryer will beep 5 times when your food is ready. That's all there is to it.
The Facial Steamer That Brings Convenient Spa Quality Facials To Your Home
Why We Picked It: So much of living in the future comes with coping with all the chemicals and pollution found in the air. Cleanse and hydrate your skin with spa-quality results at home with this luxury facial steamer that doesn't come with a luxury price. Includes headband and extraction tools. The benefits of facial steaming are seemingly endless but first and foremost is the opening of pores with warm mist so that your products better penetrate your skin for desired results.
The Clip On Light For Studio Quality Videos and Photos
Why We Picked It: These days, you know the most important element of anyone's personal brand is the quality of their social media content. Upgrade your photos and videos to studio grade with the help of this adjustable ring light with the included tripod that can stand on the floor or desk depending on your preference. Simply clip your phone into the tripod and attach the ring light and you are ready. Compatible with most major smartphones.
The Inexpensive Security Camera With Night Vision
Why We Picked It: Whether you have a baby that sleeps in their own room or a pet that likes to be destructive when left unsupervised, this indoor security camera with 2-way audio and Alexa voice-command will provide you clear HD video footage up to 30 feet as well and can pan to cover the whole room. Motion tracking technology will rotate the camera in the direction of the detected motion.
The USB Plug In That Turns Any TV into A Smart TV