Our Favorite Amazon Buys Under $100 Dollars
You don't have to spend a substantial amount of money to get some cool stuff.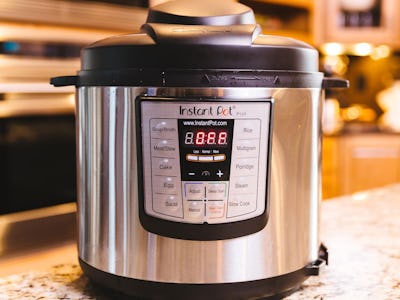 Amazon
In the year 2019 one thing is certain and that is that Amazon is a one-stop shop for all things you could ever need—and some things you just want. But for an online retail with literally millions of products, it can be hard to know where to start if you don't know what you're looking for. Sometimes you just want to buy something. Sometimes you're browsing lists just like this and that's when the inspiration strikes. You think to yourself, "I would really like a speaker just for my kitchen." And you buy it.
I've been there. We've all been there. And that's why we do this. We want to help make shopping for newest favorite products easier than ever and we don't want you to go bankrupt while doing it. On this list you'll find 10 of our favorite buys on Amazon for less than $100.
The Perfect Portable Speaker For Your Next Party, Shower and More
Why We Picked It: Awarded the "Best Budget Speaker of 2018" by PCMag this speaker is a party in and of itself. BassUp technology will deliver great bass balance on your favorite songs, while a halo of LED lights will phase, pulse and shine to the beat of any song you could play. Has a battery power of up to 12 hours. Did I mention it's waterproof?
The All-in-One Cooking Appliance for Lazy and Ambitious Cooks Alike
Why We Picked It: After a long day working, sometimes the last thing you want to do is labor over dinner and take out isn't always feasible. With this super charged slow cooker, you can make almost anything in a jiffy without having to watch it the whole time. This multi-functional appliance works as a pressure cooker, slow cooker, rice cooker, is able to sear and sautee, make yogurt, steam anything and automatically sets to keep food warm when it's done.
The Alexa Powered Car Charger That'll Keep You From Texting and Driving
Why We Picked It: These days the world moves so fast and it's all inside your phone, but sometimes you aren't in a position to safely check it. With this high speed Alexa-enabled charger, you are able to charge your phone quickly while giving voice commands to send texts, emails, and set reminders so that you don't have to look away from the road ever.
The Indoor Garden System That Will Give You Fresh Herbs All Year Long
Why We Picked It: With this indoor garden system, you can liven up your inside decor all year long with edible houseplants. Grow herbs easily with the specially designed light, provided soil and plant catridges for a constant supply for fresh herbs all year long. Comes with a 100% replacement warranty.
The Precision Kitchen Appliance That Does All The Work For You
Why We Picked It: Once reserved for professional kitchens, this sous vide makes precise, professional quality cooking more accessible than ever. Cook meat, fish, vegetables and everything in between with constantly regulated temperature and app-notifications that take the guess work out of cooking. Just set the timer and walk away.
The Keychain That Helps You Locate Your Missing Keys
Why We Picked It: Losing your things is an inconvenience of the past thanks to Tile Mate. Simply attach the Tile keychain to your most neccessary items and next time they're missing all you have to do is push a button to hear the ping from your jacket pocket, couch cushions and other easy-to-lose-things places.
The Smart Blender That Makes Nutrition Quick And Easy
Why We Picked It: We're all busy people with cluttered lives and counters already, but with the help of the NutriBullet Balance, it's easier than ever to stay on track with what your body needs without taking up too much extra counter space. Use the app to track goals, ingredients, and shopping lists. Comes with a to-go cup for added convenience.
The Eco and Wallet-Friendly Notebook You've Been Missing
Why We Picked It: How many of us have entire notebooks filled to the brim with notes we will never look at again? What if you only had to use one notebook from now on? Jot down brief notes and erase them with a damp towel when they're no longer relevant. Comes with 32 pages of eco and wallet friendly paper.
The Wireless Charger That'll Declutter Your Nightstand
Why We Picked It: Wire chargers can be messy and unreliable. They can short. They can kink. They can tangle and make charging your necessary devices a hassle. No more with this Belkin charger. Compatbile with all Qi-Enabled devices, all it takes is placing your phone on top of the charger and as long as your case is thinner than 3mm, that's all there is to it.
The Invisible Pimple Patch That Treats and Protects Acne Before It's A Problem
Why We Picked It: Made out of the same material that treats difficult warts, these hydrocolloid pimple patches suck the bad stuff out of your pimples without making them dry or more inflamed. Great for wearing out alone, under make up, or to sleep and will cut the length of your pimple in half.