The Best Smart TVs for Small Homes
Incredible TVs that won't take up too much space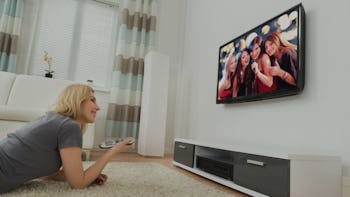 Not everyone can afford a gigantic home, and some people just prefer having a smaller one. However, a small space means you have less room to work with when furnishing your home, so buying something like a big-screen TV may be out of the question. Thankfully, there are plenty of great TVs to choose from that can perfectly cater to your needs.
Although manufacturers tend to focus on marketing their largest screens, the best TVs aren't always the biggest. While they may not have the screen real estate of their larger counterparts, many smaller TVs have just as much to offer in terms of quality. That means you don't have to compromise.
If you're in need of a TV that won't take up too much space in your compact home, we have you covered. We've gathered a list of the best TVs to fit your needs and budget.
TCL 32S327
Price: $130
The TCL 32S327 is a 32-inch 720p HD LED display with a built-in streaming player that gives you access to services like Hulu, Amazon, Netflix, and more. In addition, it has an intuitive interface which makes navigating through complicated menus a breeze.
Toshiba 32LF221U19
Price: $150
The 32-inch Toshiba 32LF221U19 is a feature-rich TV that's perfect for small homes. This TV runs on Amazon's Fire OS, giving you access to thousands of channels, apps, and Alexa. Its 720p display offers deep blacks and rich colors.
VIZIO D32X-F1
Price: $185
Vizio is a brand that is known for creating high-quality TVs that are also affordable. The D32X-F1 is one of the best 32-inch displays they offer. What makes this TV special is its 1080p display, full array backlighting, and 120Hz refresh rate. On top of that, this TV will give you access to a full selection of streaming apps including Netflix, YouTube, and more.
Samsung UN32M4500A
Price: $186
Samsung's UN32J4000C has an impressive 720p HD LED screen, but its most interesting features are its Ultra Clean View and Micro Dimming Pro technology. Ultra Clean View analyzes the original content being sent to the TV then enhances it with an advanced algorithm. The Micro Dimming Pro feature separates the screen into zones, allowing the TV to analyze each zone and adjust so you get deeper blacks and purer whites.
Samsung 40NU7100
Price: $378
On the larger end of the small TV spectrum is the 40-inch Samsung 40NU7100. This set is one of the most affordable 4K Samsung TVs you can get. Its best features include HDR10+ support, a Motion Rate of 120, and Universal Guide (a feature that gathers your favorite content from multiple devices and puts them all in one easy-to-navigate menu).
LG 43UK6300PUE
Price: $344
If you have the room for it, this 43-inch 4K smart TV is worth considering. The LG43UK6300PUE uses LG's artificial intelligence ThinQ to turn the TV into a hub for your various smart devices. ThinQ also turns the TV into a hub you can use to control your smart home with voice commands.