Check Out the Watch We're Obsessed With This Month
Analog watches are back in a big way.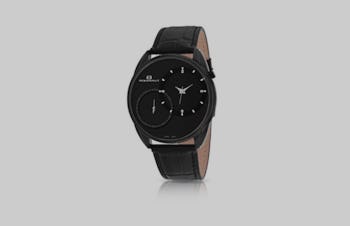 inverse shop
After a bumpy start, it feels like the Apple Watch is bringing more and more people into its snug, wrist-hugging grasp. That's not necessarily a bad thing, but I've always been more of a classic watch kind of guy. Smart watches are great and all, but sometimes I want to leave my house without an internet-connected microphone wrapped around my arm, you know?
But where to get a good, modern, well-made watch these days? Everything either feels like it breaks immediately or costs $100,000. Where's the middle ground? The Oceanaut Sentinel watch hopes to answer that question for you.
Featuring premium designs made by master craftsmen using only high-quality Swiss and Japanese components, genuine diamonds, and ceramic, Oceanaut's timepieces truly evoke a sense of luxury and style. The men's Sentinel watch combines a bold face with a sleek stainless steel case that rated for depths down to 100 feet, creating a stylish look. I love the modern face paired with the uncluttered designed, and rounded off with a classic lather strap. This thing ticks all my boxes.
What's more, you can get the Oceanaut Sentinel for 77 percent off right now. it's on sale over at the Inverse Shop for just $109.99, down from $495.