These Wireless Earbuds Will Eliminate Your Need for Airpods
If you don't have AirPods, don't worry, they are not the only option in wireless headphones.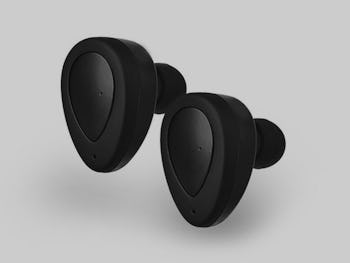 Inverse
At the risk of sounding too much like a late night infomerical, here we go. The year is 2019 and the name of the game is convenience in every possible way. Snagging your headphone cord on a door knob is to be left in 2018. Stop starting your day with 15 minutes of headphone untangling. Never have to deal with your cord shorting again. So the only question that remains is, why don't you own wireless headphones yet?
I get it. This kind of comes as a shock to some of the wanna-be old heads resistant to the tide of technology. When AirPods came out, they were among the foremost music listening innovations since the Bluetooth speaker. But where AirPods fail is by trying to look too much like its corded predecessors and it's not among the most approachable aesthetic options. And at $160 a pair, it's not like they're trying to be the next in accessible trends, either.
I'll hand it to Apple for popularizing necessary technology and possibly for pioneering certain designs that allow us to only learn for our mistakes and hone our preferences going forward. If you've been on Twitter since the New Year you've probably started to feel the pressure of the AirPods trend. They've taken on a life of their own—as memeable subject matter often does—and it's become clear that AirPods have become more socially acceptable to some than they were when the first concept photos were introduced. Nevertheless, they are still quite polarizing and I am of the strong opinion that they look ridiculous, that they are too expensive and that I will lose them within four days of unboxing them.
Are you like me? Do you want something innovative — yet accessible —with good sound quality and ease of use? The answer to our collective prayer has been revealed in the Neva Tech FreeStereo Twins, usually $149.99, now on sale for $34.99. A whopping 76 percent off, which is absolutely unheard of.
These wireless headphones are unique in that they can be used together or separately, meaning you can listen with just one ear or both depending on your task, but if that's not enough, they can pair with multiple devices at a time. So if you're like me, and that means you're posted in coffee shop right now with headphones in, you can listen to music from your laptop while still easily taking calls from your phone without any hard transitions and with a built-in microphone no need to deal with the far away audio of speaker phones in years' passed.
The batteries are fully rechargeable and a typical charge takes up three hours but will last for up to three hours of talk time or five hours of play time. Not using them at the moment? A full charge will last about 55 hours in standby. Equipped with a dual purpose charging and carrying case, never worry about losing them in your bag or pocket.
And if we're getting shallow on the end here, the FreeStereo Twins Wireless Bluetooth Earphones are my pick over AirPods every time based off their price tag and color alone. Outstanding specs aside, black headphones are just the better-looking option.