Elon Musk's Tweets Spark Lawsuits Against Tesla — but He Won't Stop Tweeting
He doesn't seem worried about the lawsuits.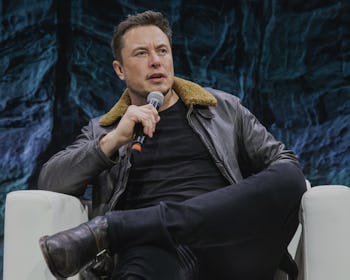 SXSW publicity photo
Tesla has been served two lawsuits by investors who claim CEO Elon Musk attempted to mislead short sellers, citing Musk's tweets which claim funding was "secured" to take Tesla private and that shareholders supported the proposal.
On Wednesday, Musk tweeted that he was "considering taking Tesla private" at $420 a share and that funding had already been secured. The tweet not only sparked confusion and anger among shareholders who have bought Tesla stock on open markets but prompted an SEC inquiry. On Friday, two separate lawsuits were filed against Tesla by investors claiming Musk's online behavior violated federal securities laws.
In one lawsuit, plaintiff Kalman Isaacs claims that Musk's tweets were intentionally misleading and designed to "completely decimate" short sellers, or those who borrow potentially overpriced shares, sell them, and repurchase later at a lower price to make a profit. Although Musk has yet to prove that he has the funding to make Tesla private, Isaacs argues that Musk's tweets caused enough inflation and volatility that short sellers may already be out of hundreds of millions of dollars.
The second lawsuit, filed by William Chamberlain, says Musk's tweets artificially inflated Tesla's share price, a violation of federal securities law. After he tweeted about going private on Wednesday, Tesla's stock price jumped more than 13% above the prior day's close. This is an obvious boon for Musk, who owns a fifth of the company, but has consequences for short sellers who bet on share prices falling.
Despite the lawsuits, Musk has not deleted the explosive tweets and continues to joke about the disgruntled short sellers. "Short shorts coming soon to Tesla merch," he tweeted after news broke of the lawsuits. "S3XY," he continued, before tweeting more jokes that the Tesla short shorts would look great with "thigh high socks with pockets for lipliner & cards."
Nothing seems to deter Musk from competitive or even offensive tweets this year, so it shouldn't be surprising that two lawsuits and an SEC inquiry have failed to silence his Twitter presence. Still, without proof that funding was secured to privatize Tesla, Musk may soon be held accountable for his online shenanigans.